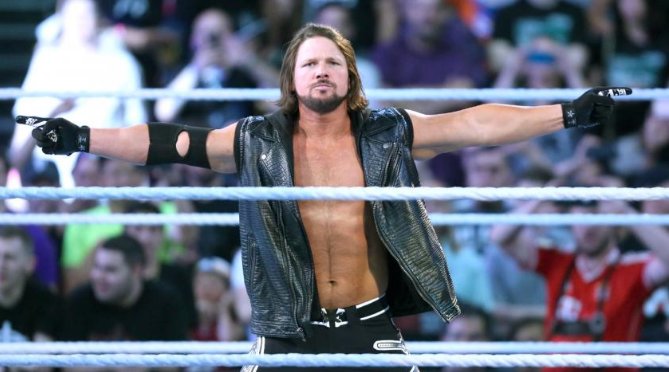 AJ Styles hasn't had the best of luck when it comes to title opportunities as of late. Styles lost the WWE Championship to John Cena at the Royal Rumble back in January and he still has yet to receive a one on one rematch for the belt.
The former champion is determined to main event WrestleMania and after the number 1 contender's battle royal on SmackDown Live ended in controversy a few weeks ago, he was forced to face Luke Harper for the right to challenge Bray Wyatt.
AJ Styles managed to beat Luke Harper and he thought that he had secured his spot at WrestleMania, but Royal Rumble winner Randy Orton screwed up AJ's plans by turning on Bray Wyatt. Now Orton and AJ are set to do battle on SmackDown Live next week and the winner will go on to face Bray in Orlando.
Styles has said that Randy Orton is someone who he's been hoping to face and Tuesday night his dream will come true. It doesn't look like AJ Styles is intimidated by the 12 time WWE World Champion, as he posted the following on Twitter:
I guess I'll just win my spot. Again. #Phenomenal #SDLive https://t.co/8dhsZjrwM1

— AJStyles.Org (@AJStylesOrg) March 3, 2017
Jack Swagger recently announced to the world that he has requested his release from WWE. The company has not confirmed as of this writing whether or not Swagger's release has been granted, but Swagger was recently booked for a show in the UK and all signs point to him parting ways with the company.
Swagger did have varying levels of success throughout his WWE career as he managed to capture the World Heavyweight Championship and the United States Championship.
Jack never managed to capture the Tag Team Titles during his run with WWE, but many fans thought that he should have won the belts when he teamed with Cesaro to form The Real Americans. Unfortunately it never happened, but Cesaro surely seems to have enjoyed teaming with Jack as he took to Twitter to thank his former partner.
Thanks Big Hoss #WeThePeople pic.twitter.com/WLv0NLqSaN

— Cesaro (@WWECesaro) March 3, 2017