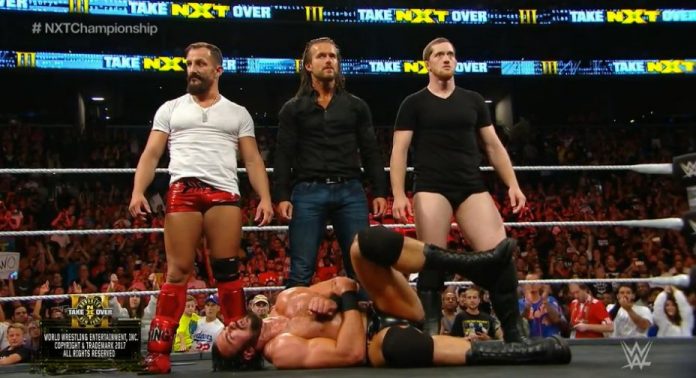 Saturday night was a big night for Adam Cole fans, because the three time Ring of Honor World Champion made his highly anticipated NXT debut at Takeover: Brooklyn III. After Drew McIntyre defeated Bobby Roode to win the NXT Championship in the main event, McIntyre was confronted by Kyle O'Reilly and Bobby Fish while Adam Cole attacked the new champion from behind.
Related: Bobby Roode's NXT Farewell Tour Announced, Triple H Gives Adam Cole Advice
It seems pretty clear that Adam Cole has his eyes on the title, and McIntyre vs. Cole looks to be the next big feud in NXT going forward. Fans who saw NXT Takeover: Brooklyn III likely noticed that there's a size difference between Drew McIntyre and Adam Cole, which presents an interesting situation, because the feud will see a smaller heel going up against a bigger face.
The Wrestling Observer Newsletter noted that the size difference is why Kyle O'Reilly and Bobby Fish were put with Adam Cole, so that he can have back up in his feud against McIntyre.
After Bobby Roode dropped the NXT Title to Drew McIntyre at Takeover, he made his main roster debut on SmackDown Live a few days later.
Roode recently spoke to Channel Guide Magazine about his NXT run and more, and during the interview he noted that it's been a cool experience getting the chance to be mentored by WWE Hall of Famer Shawn Michaels.
"Triple H himself has been very hands-on. I had the opportunity over the last several months to sit down and be mentored by Shawn Michaels himself. So, it has been a really cool experience. Even though I've been in this business for almost two decades, this last year has been really gratifying. I've got to learn a lot and continue to learn. That's one of the best things about being in this business is you never stop learning."