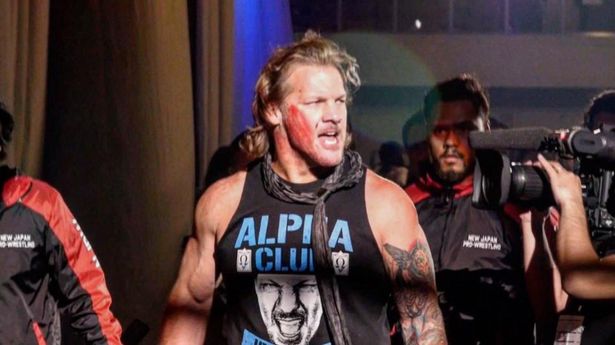 When Chris Jericho makes an appearance he does it in a big way. Chris Jericho's status with New Japan Pro Wrestling has been a big topic of conversation recently because some were under the impression that his deal might be done with the company. But it turns out that Jericho might have been working us all because he popped up at the Wrestling Dontaku Night Two for New Japan and had a target on Tetsuya Naito's head. He was previously spotted at the airport in Japan but it was still excellent to see him.
As you can see by the clip below, everything looked like it was going well for Naito as he exited through the crowd and he was super over until he was attacked by a mysterious fan in a hoodie.
This fan proceeded to beat Naito around the arena, clobbering him with a guardrail in the process which is a pretty hard bump to take. Then once they got in the ring the masked man had a little bit of trouble revealing his true identity. But as soon as the mask was totally off we saw it was Chris Jericho in black lipstick.
After hitting a Codebreaker on Naito it was clear that this was really going to happen once again for NJPW and Y2J.
As people flooded the ring they could do little to stop Jericho who took out officials and young boys with one shot after another. Naito was left a bloody mess in the ring after Jericho returned to the squared circle with the ring bell and used it as a weapon against his foe.
Things are going to get very interesting from this point on. Not only does Jericho have a very busy schedule with Fozzy but he is always trying to fit in as much as possible before his Rock n Wrestling Rager At Sea. But it looks like New Japan and Jericho were able to work something out after all regardless of what he told me last month.
JERICHO ATTACKS NAITO‼︎#NJPWWorld Watch now▶︎https://t.co/Tj7UBJ4PjP #njDONTAKU @IAmJericho @s_d_naito pic.twitter.com/GaGxsl09T8

— njpwworld (@njpwworld) May 4, 2018