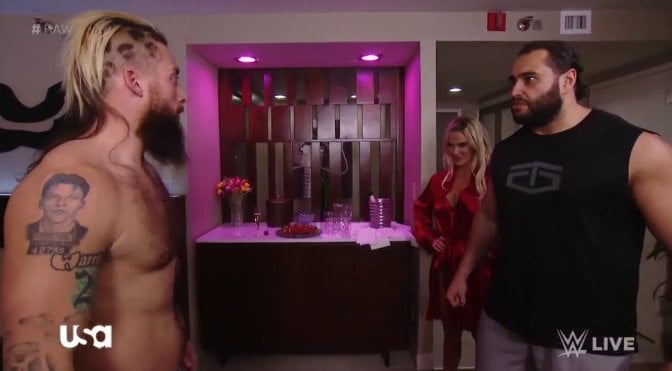 Overall, a good showing from Raw tonight…but there were a lot of gaps in logic as far as the creative goes. As a few examples of that:
– Big Show aligns with Seth Rollins – As a surprise to threaten Seth Rollins, Kevin Owens brought out Big Show as a surprise opponent. Big Show came out smiling like a babyface. He then proceeds to destroy Rollins for most of the match, working like a heel. Then Kevin Owens tells him what to do one too many times, Big Show snaps, and he is back smiling. Why would Big Show have aligned with Kevin Owens in the first place? And is Big Show a babyface or a heel?
– Rich Swann fights T.J. Perkins – A title match for the Cruiserweight Championship. Two babyface competitors that are said to be friends despite their competition in a recent triple threat. Where's the Brian Kendrick rematch? Better yet, where's the heat between the two? Great match, nonetheless.
– Alicia Fox wrestles Bayley – The women's match at Survivor Series played into Nia Jax — "who's not like most girls" — and her disliking of the rest of the roster. She had a problem with Bayley. Prior to that, she had a feud with Alicia Fox. Neither issue proceeded, and apparently Alicia Fox is both a heel and unstable again. And Nia Jax is missing in action.
– The Tussle In Texas – Clever for the match between Mark Henry and Titus O'Neil to have a catchy name. But Titus O'Neil loses from taking a single power slam? The guy was a tag team champion beyond being one of the larger guys on the roster. The "Titus Brand" needs redefining, to put it nicely.
– The backstage area – Rusev couldn't find Lana after she gave up her wedding ring in a fit of anger. Kevin Owens couldn't find Chris Jericho up right before his match with Roman Reigns. Enzo couldn't find his Uber driver. How big is the backstage area of this arena? And if a wrestler is going to wrestle soon, wouldn't you look for them in the locker room?
– Enzo and Lana – Enzo and Lana are going to have a secret affair at the hotel. So naturally there's a camera following Enzo in the hallway and a camera following Lana in the hotel room. No disrespect meant to Lana, but if Enzo is a "bonafied stud," then why is he so blown away by the first girl that looks at him?
– John Cena hosting SNL – Raw thinks it's better than Smackdown. Smackdown thinks it's better than Raw. The two shows think their roster is stronger as they are in active competition. So the "Raw" announcers talk up John Cena hosting Saturday Night Live. Consistent, yes.
– Roman Reigns – Still being booed. Even when pitted against a heel.
Next week's episode is in Philadelphia? Can't wait…