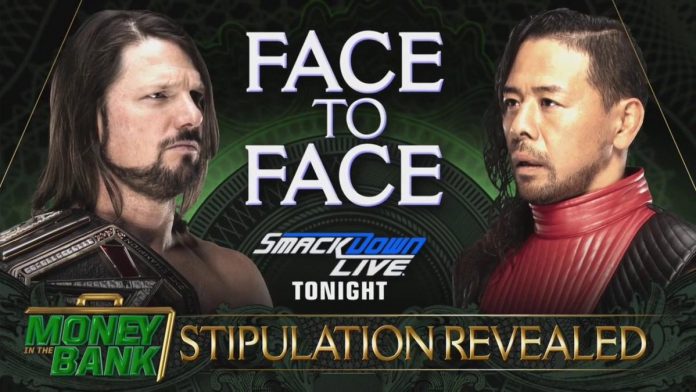 Opening Segment – Miz TV
The Miz said MIZ TV is all about exclusives and he's got one of those for us tonight. July 24… his new reality TV will debut right after SmackDown Live… so this is why he was moved to Tuesdays. Then he got the crowd to chant "Miz and Mrs."
He introduced The New Day and they came out shaking their booties. The New Day acted like they wouldn't be watching Miz and Mrs like there's going not going to.
Then The Miz asked "who is it going to be" regarding which member of the New Day would be in the MITB match. They all said, "it's gonna be me," and they made an NSync joke. The Miz said they hold each other back and then Xavier Woods put over The Miz hardcore before he told him why nobody likes him because he makes sure Miz always comes first.
The Miz said Kofi has been in 6 MITB matches but never won one. Then he moved on to Big E where he said he'll never be taken seriously because he doesn't take himself seriously. He moved on to Woods next and put over his YouTube channel. He messed up the name of a  video game while trying to paint a picture of Woods playing that game with the WWE Championship around his waist.
Then he asked again, "who's it gonna be?"
Woods said E and Big E said Kofi and Kingston said Xavier. The Miz started yelling because he wanted the exclusive because he's going to win the MITB contract and he could beat any of them any day of the week.
Kofi Kingston said it's going to be Big E and The Miz said he had the exclusive then Woods said they're not talking about MITB, they're talking about tonight. The Miz said if he doesn't get what he wants then they don't get what they want. Then they started to say "shame" over and over again while they threw pancakes at The Miz. Some dude in catering had to make a tray of pancakes just for them to throw.
The Miz walked backstage and found himself face to face with Paige who just stood there. "I get it, not everyone likes pancakes," she said. Then she booked The Miz vs Big E right now telling him to go out there and get the match going.
The Miz vs Big E
The Miz gained the advantage early on before Big E hit a dropdown and leapfrog over The Miz to lock on an abdominal stretch. He spanked the A-Lister and splashed him on the apron. Then Woods said, "that's the round" before walking over and treating E like he was a boxer giving him a pep talk and a sip of water.
The Miz countered by tossing Big E into the barricade before rolling him back in the ring to continue his assault.
Kofi replaced Woods on commentary and Kingston said he's surprised Todd Phillips could tell them apart. Big E hit a big splash on The Miz in the center of the ring while Woods played his trombone on the outside.
Then The Miz caught a kick but E blocked a DDT to hit a nice one-armed slam for a two count. The Miz came back with a counter and hit the DDT for a two count. Suddenly, Sheamus and Cesaro ran down to attack Woods until Kofi hit them with a splash from the top rope. This distracted Big E who was caught with a Skull Crushing Finale from The Miz for the 3.
Winner: The Miz via pinfall
Lana vs Billie Kay
Aiden English gave Lana a great singing introduction and then she came out to her own music. This was pretty big because Rusev was nowhere in sight but English walked down with her. It looks like the Rusev Day stable could be fully together even if Rusev is in Bulgaria.
It's also nice that WWE let him go back to Bulgaria for a bit while he was over in Europe anyway.
The IIconics came out and received a ton of Rusev Day chants while they sang badly on purpose saying "Lana is a loser." They're the Austrailian Bella Twins, right? Now that they're both wearing their own t-shirts I can't really tell them apart.
Aiden pulled out a big "Lana Day" sign before the match and Peyton slapped him. Then Billie took a bump off the steps and back into the ring.
I don't even remember the bell ringing but Lana hit her face planter finisher and won while the crowd cheered, "Lana Day!"
Welcome to being a babyface, Rusev Day.
Winner: Lana via pinfall
Zelina Vega cut a backstage promo with Andrade Cien Almas where she talked trash about Cien getting an enhancement talent last week. She said he's the future and if he doesn't get what he deserves then they'll just take it. God, they're good.
Andrade Cien Almas Wins Again
This was no shock but Andrade Cien Almas was fed another enhancement talent. He destroyed this guy and looked great.
Winner: Andrade Cien Alvas via pinfall
Carmella had an Asuka mask on backstage and cut an interview with Dasha about how confident she is that she will win at Money In The Bank.
What's The Stipulation, Nakamura?
Renee Young hosted this segment in the ring. Nakamura acted like he didn't know what stipulation means and then he suddenly spoke English and showed the footage from last week.
Nakamura said he won't just beat AJ he will dishonor him. Then AJ asked him to reveal the stipulation which will be a pillow fight match. Okay. So Nakamura said pillow fight and then he started laughing. This made AJ laugh a little bit too.
"I joke because I have the upper hand, you joke because you're afraid," Nakamura said. He said all he wants to do is put his knee into his face over and over again. Styles said he doesn't care what the stipulation is and that he's not the Nakamura they wanted on SmackDown Live.
AJ tried to hit Shinsuke but they fought out of the ring AJ took a bump over the barricade and they started fighting out on the floor. They moved their way back over the barricade and Shinsuke whacked AJ with a chair as he tried to hit a springboard move off the barricade.
Then Nakamura started counting like a last man standing match. He then bounced AJ Styles off the announce table and nailed him with a Kinshasa.
Nakamura started counting again like it was a last man standing match once again and he got to 10 that time. Then he stood on the announce table and said, "last man standing" but some people might not have understood him because of his mouthpiece.
The Usos and The Club
This was a #1 contenders match to see who got to face The Bludgeon Brothers at Money In The Bank.
The Club want a shot at the Bludgeon Brothers but The Usos weren't going to have it. The Usos told The Club that this isn't Japan or Raw, this is SmackDown Live where the Usos reside. They don't just hand people stuff and then Gallows called them nerds before it broke out into a brawl.
After a nice back-and-forth match, The Club hit the Magic Killer and got the win.
Winners: The Club via pinfall
Naomi vs Sonya Deville
Mandy Rose got to stand at ringside during this match which is a change from how it's been so far for the two on SD Live. Becky Lynch looked on backstage while Naomi hit a splits to avoid a clothesline. Then they showed Charlotte Flair watching on a different monitor backstage. This match is popular.
They had a nice back-and-forth dynamic until Deville hit a massive spinebuster for a two count and Naomi took some damage in the corner from there with some kicks until The Glow returned with some of her own.
They started hitting kicks on each other in the middle of the ring and then hit each other with dropkicks. That was a neat spot. Naomi avoided a clothesline and rolled Sonya up for the win.
Winner: Naomi via pinfall
Jeff Hardy vs Daniel Bryan
These guys shook hands and got to work. They both got started in their own direction but had their momentum stopped.
Samoa Joe was on commentary for this match saying he wouldn't mind beating either of these guys as Jeff Hardy hit an atomic drop causing Daniel Bryan to roll out of the ring.
They bounced off the ropes and hit each other with cross body blocks that sent them both to the ground. This made Joe happy as he said he causes him job to see these two destroy each other.
They traded shots in the ring and Daniel Bryan gained an advantage by hitting some stiff kicks. Hardy moved outside and Bryan nailed a baseball slide but Jeff moved cauing Daniel to miss a diving knee from the apron. In that amount of time, Hardy jumped on the apron and nailed a running dive of his own.
Daniel rolled in the ring and Jeff went to the top rope but Daniel crotched him and caught him in a tree of woe to deliver some yes kicks and a low dropkick. Hardy fought out of a superplex attempt and nailed a Whisper In The Wind on D-Bry for a two count.
Bryan avoided a Twist Of Fate and took out Hardy's knee that he continues to sell. Then Daniel Bryan started lighting Jeff up with Yes Kicks but he missed the last one and was caught in a Twist Of Fate.
Jeff then climbed up on top and hit a Swanton Bomb but Daniel Bryan got his knees up and landed the final Yes Kick to Jeff's head for a two count. Joe said by the way this contest is going whoever faces him will have a broken body and that's fine with him as the two fought on.
After reversing each other's reversals for a few sequences, Daniel Byan hit a dragon screw and then he locked on a leglock for the win.
Winner: Daniel Bryan via submission
After the match was over, Samoa Joe got in the ring and said he failed to see what they're celebrating because next week Bryan faces him. As the crowd chanted, "Joe" he left leaving Daniel Bryan alone in the ring looking very determined.