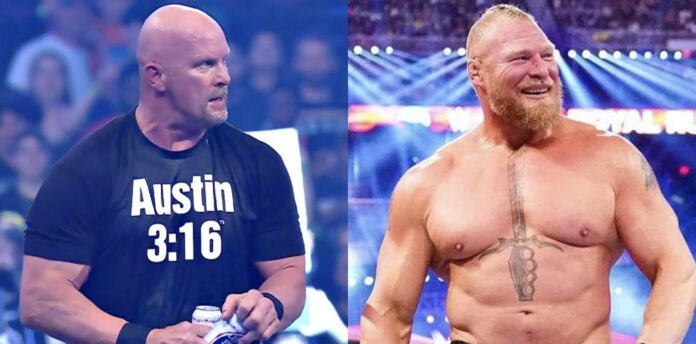 WrestleMania season is here and it was determined a few weeks ago that Brock Lesnar will be going one on one with Omos on the Grandest Stage of Them All. The announcement came as a surprise as some fans expected Brock to face off against Bobby Lashley at Mania, but Brock's match with Lashley was moved up to the Elimination Chamber premium live event last month.
Sports Illustrated is reporting that Brock Lesnar was originally set to face Bobby Lashley at WrestleMania 39. However, the match was moved up to Elimination Chamber so that Brock Lesnar could prepare for a program with Steve Austin.
Ultimately WWE never came to terms with Steve Austin on a deal to face Lesnar at Mania. This lines up with recent reports from Fightful which noted that WWE made Steve Austin a match with Brock Lesnar, but it was said that the money the company offered him for the match was a non-starter. It was also reported that WWE offered a match with Roman Reigns to Austin for more money and Austin didn't end up getting back to them on the offer.
As of this writing Steve Austin has not been announced for WrestleMania 39 although it was recently reported that WWE is still trying to get him for the event. We'll have to wait and see if he ends up getting worked into the plans somehow. Stay tuned for more updates as they become available.