It's time to get into the Fastlane to Road To WrestleMania. We have our cruise control set to full speed at this point and we are finally at Fastlane. Only time will tell how WWE places the pieces to WrestleMania's puzzle together. But we'll have a much clearer picture sooner than later.
AJ Styles must defend his title against five other top Superstars and Charlotte needs to get through Ruby Riott in order to secure another WrestleMania Moment. The only question is if Asuka will emerge tonight to really solidify her WrestleMania intentions.
On the same token, The Undertaker is likely to be doing something with John Cena very soon and it might as well happen at Fastlane.
Rusev is on fire with Rusev Day but perhaps he's simply just selling a lot of t-shirts and WWE has no other plans for him. Of course, he is facing the guy who has a guaranteed title match at WrestleMania so there are worse places to be on the card.
Let's see what's going to happen as they threw a six-man tag match in the kickoff show at the last minute with Breezango and Tye Dillinger vs Chad Gable, Shelton Benjamin, and Mojo Rawley because why not?
Breezeango and Tye Dillinger vs Chad Gable and Shelton Benjamin and Mojo Rawley (Kickoff Show Match)
Fandango put on some wrestling headgear before locking up with Gable and that was pretty great. Then Gable got down on all fours and gave Breeze the advantage but Tyler mounted him like he was riding a pony instead. These guys are fun.
But the comedy soon gave way to wrestling and Breezango ended up taking some punishment.
Mojo was hyped to be in the match and was immediately welcomed with "you can't wrestle" chants. "You think I care about that? You think I cane about being a wrestler?!" Mojo yelled back at them before taking some punishment to Breeze. So yeah, Mojo doesn't care about being a wrestler. Neat.
Tye got the hot tag and started running all over the heels. He tried for the Tye Breaker but it was broken up. Gable rolled him up for a two count and then he Dillinger took a rolling kick to the face. Gable and Benjamin set Dillinger up for a double team move but he broke it up. Breeze hit a Beauty Shot on Benjamin and he left.
Once they were in the ring alone Dillinger hit the Tye Breaker on Mojo Rawley and they picked up the winski.
Winners: Breezango and Tye Dillinger via pinfall
Shinsuke Nakamura vs Rusev
It is a sellout crowd in Columbus Ohio and I could have actually been there at the Nationwide Arena in the midst of those 15,000 fans but I'm here instead because that's just my dedication.
Aiden English came out and it seems like he inserted a little rap-rock into his usual Rusev Day song. It was quite impressive though and there were a ton of Rusev Day chants. The Bulgarian Brute came to the ring in one of his hoodies that he cut the arms off of looking focused like an MMA fighter.
The crowd was extremely hot from the get-go with dueling Nakamura/Rusev Day chants. Then Rusev took the offensive for a bit until Shinsuke turned it up a notch and dropped a knee on Rusev's head.
The Bulgarian Brute smashed Nakamura down and Nakamura soon broke free to play some mind games. Rusev and Nakamura brawled on the outside a bit and Rusev took a knee to the back of the neck from Shinsuke. Then Rusev nailed Nakamura as Aiden distracted him and he took a moment to smash Nakamura around the ringside area for a bit.
Nakamura fired back and landed a few kicks then Rusev looked shaken up as Nakamura started firing off some knees. But to his credit, Rusev did kick out of pin attempt.
Nakamura locked in a chokehold and Rusev kept trying to pick Shinsuke up but he couldn't quite get him there. Then Rusev suddenly sprung to life and hit a fallaway slam out of nowhere.
Nakamura tried to hit Rusev but he countered with a knee and a kick to the back of the head for a very close near fall. Nakamura avoided a Machka Kick and started assaulting Rusev with kicks.
Rusev sidestepped a Kinshasa and tried to lock in an Accolade but Nakamura countered. Then he landed another kick went for a Kinshasa but ran right into a Machka Kick. 1-2-kick out!
Rusev tried for another Accolade but Nakamura got out. He hit a knee to the back of his head and a Kinshasa. 1-2-3 and Rusev lost on Rusev Day.
Winner: Shinsuke Nakamura via pinfall
Bobby Roode vs Randy Orton – United States Title Match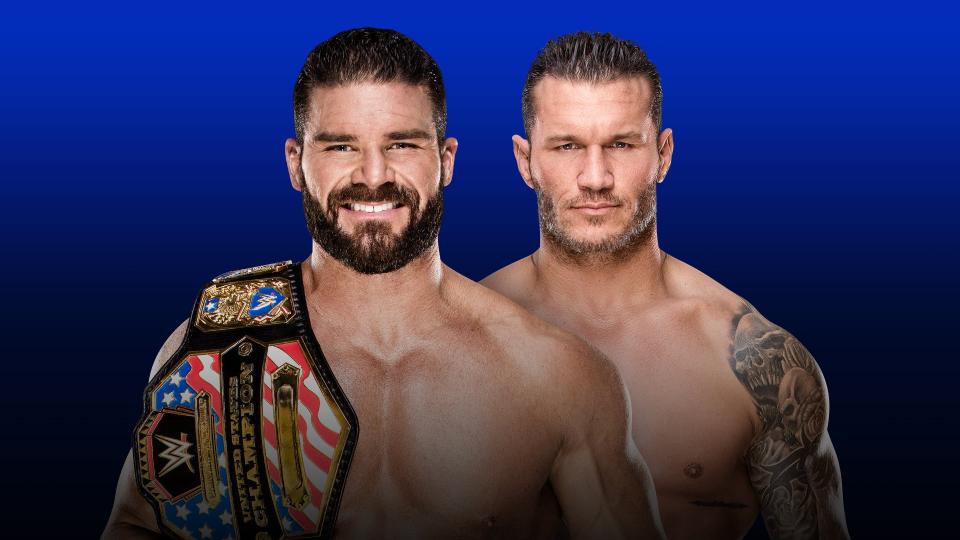 Roode and Randy went back and forth for a bit and then Orton slowed it down a little bit after taking a stiff tackle from The Glorious One.
Roode and Orton reset for a second and then locked up once more in a match it seemed like the two really enjoyed being in. Bobby hit a forearm uppercut and avoided a quick RKO before rolling outside to regain his composure.
The Bobby Roode chants started to build as Orton backed Bobby into a corner but Roode returned with a chip and Randy hit an uppercut. Roode went for a Glorious DDT but Orton avoided it and rolled out of the ring this time.
As Jinder Mahal watched backstage on a monitor Roode and Orton locked up again. Randy bounced Roode's body off the top rope and sent him falling to the ground before picking him apart with some kicks but Bobby returned with a stiff clothesline after being shot into the corner.
Roode latched on a rear chinlock to muscle The Viper down for a bit before Randy fought out to cause some separation. Randy blocked a suplex and came back with one of his own while people started chanting "Byron Saxton."
Roode came back with some clotheslines and hit a neckbreaker. Roode climbed up to the top and hit a top rope clothesline. He did the Glorious taunt but Orton rolled Roode up for a two count and hit a powerslam in return.
Roode rolled to the outside of the apron to set up the draping DDT but Roode avoided it. Orton jumped over the rope and hung Roode's neck but he soon ran into Bobby's boot and then Roode hit a top rope Blockbuster for a near fall.
After laying in a chop in the corner Orton fired back and ended up catching Roode in a draping DDT that he actually pulled off that time. But instead of going for the pin, Orton amped the crowd up and prepared for an RKO.
Roode avoided the RKO and tried for a Glorious DDT but Orton reversed out and rolled him up for a pinfall but Bobby kicked out. Roode clotheslined Orton over the top rope and Roode followed which wasn't a good idea because Randy soon sent him into the barricade and then sent the small of his back off the barricade. Orton threw Bobby back in for another two count.
Orton places Roode on the top rope and laid in some punches before joining him on the top rope. Bobby fought back and hit a sunset flip powerbomb for a two count. The crowd wasn't in this one as much as they were the opening Nakamura/Rusev match, that's for sure.
Roode went back to the top rope and Orton crotched him by knocking his leg off. Orton went for a superplex and nailed it but nobody made the pin at first until Orton crawled to him for a two count.
They traded kicks for a minute and neither man was giving in. Then Roode rolled Orton up for a pin but Orton kicked out. Orton tried for an RKO but it was reversed into a Glorious DDT which was also blocked. Then Roode nailed a spinebuster for a two count.
Roode soon went for another blockbuster but Orton nailed an RKO in mid-air. 1-2-3 and RKO has now won the US Title which was the only one he needed to hold in order to say he's held all the titles in WWE (except for the Universal Title but I guess we're not counting that).
Winner and NEW United States Champion: Randy Orton via pinfall
After the match, Jinder Mahal ran down because he's taken a title off Orton before. Mahal started to kick Orton down but Roode pulled him off and nailed a Glorious DDT on the Modern Day Maharaja. Then Randy Orton got a Glorious DDT of his own before Roode left in disbelief that he lost his title.
Kevin Owens and Sami Zayn were in the locker room and KO was still upset at Sami for last SmackDown Live. Sami started to tell Kev that he wouldn't let him down but Owens left in mid-sentence.
Becky Lynch and Naomi vs Carmella and Natalya
The babyfaces took a good amount of damage during this match. Naomi looked like she was going to mount a good come back but her attempt at a split legged moonsault was stopped.
Mella god the tag and moonwalked all over The Glow and scored a two count before rubbing Naomi's face into the canvas while she screamed, "feel the glow!" Nattie took a tag and kept punishing Naomi for coming to work.
Mella got the tag and used some underhanded tactics to gain an advantage although she did get slapped for messing with Naomi's hair. Then Mella landed a running knee on the floor as Naomi was draped over the apron.
The Glow tagged Lynch in and The Lass Kicker took it to Natalya who took a Becksploder Suplex and then she hit a top rope move before Nattie tagged Carmella and then Naomi got the tag again. Mella avoided a Read View and then The Glow tagged Lynch who hit a top rope leg drop for a two count.
Mella and Lynch ended up in the ring alone and Nattie distracted Becky on the top rope and Mella knocked her down for a two count. Mella called for the MITB briefcase for some reason and then Becky ended up smashing into it. Mella nailed a kick to the head and then scored a pinfall.
Winners: Carmella and Natalya via pinfall
The Usos vs The New Day (SmackDown Tag Team Titles)
This match was electric before the bell even sounded. Xavier and Kofi were representing the longest running WWE Tag Team Champions as Jimmy and Woods started off the match.
Jey got a tag and landed a kick to Xavier's face to send him down but he didn't pin him for some reason. He did stomp him down in the corner before tagging Jimmy and then they started doing their own version of  The New Day's Unicorn Stampede for a bit.
Woods took a forearm to the face for a two count and then Jey locked on a submission hold to keep Xavier grounded while Big E rooted for him on the outside. Woods finally tagged Kofi and he started hitting a bunch of tackles and landed a Boom Drop.
Jey blocked a Trouble In Paradise but Kofi stomped Jey's chest before sending Jimmy to the floor as well. Kofi mocked The Usos before landing a hip attack in the corner and then Jimmy came back with a Boom Drop of his own to even things out.
Woods soon got the tag and caught a Superkick on Jey. Woods was soon Superkicking everyone he could as he tagged in Kofi and stood ready to pounce. Woods hit a Superkick on Jimmy and Kofi nailed an Uso-looking splash for a two count.
They were doing a lot of move stealing during this match which was fun to see from these two teams who know each other so well. Woods and Kofi prepared for the Double Uce Splash but Jimmy saved Jey from the assault.
All 3 members of The New Day were at ringside and The Usos hit stereo dives on them. Suddenly The Bludgeon Brothers came out because they were welcomed… but they certainly didn't forget their hammers.
Harper and Rowan walked to the ring and then they started annihilating everyone causing the referee to call for the bell. So yeah, this could have been the match of the night but nope.
Winner: Nobody
Harper and Rowan destroyed every man in the match one by one in very inventive and destructive ways. Then closed things off by slamming both Usos against each other and then hitting a slam on Jay and then slamming Jimmy onto Jay. Then Harper body slammed Rowan onto both of them and then they landed a splash on them as well.
They went for their hammers but Jimmy moved out of the way before he could get murdered by a large hammer. Before they left, Rowan and Harper stopped and looked at Xavier Woods. They picked up the ring steps and then drug Woods over to hit a double powerbomb on Xavier.
Then The Bludgeon Brothers stood over them looking very proud of what they had just done.
Things were very uncomfortable after the tag team title match. Xavier had to be taken away via stretcher and he was selling his injuries like he was going into shock. Great acting but even more impressive carnage.
Charlotte Flair vs Ruby Riott – SmackDown Women's Title Match
Ruby Riott came down without Riott Squad associated Sarah Logan and Liv Morgan and Charlotte Flair was super over in Columbus, Ohio.
Flair blocked a Riott Kick right from the start and then she tried a Figure 4 but Riott blocked it too. Flair got in the ropes and Ruby kicked the top rope to choke her before Flair caught Riott and tossed her aside.
Ruby grabbed Charlotte from behind and the two toppled to the floor. Flair threw Ruby against the barrier a couple times and then suddenly she turned around where Liv and Sarah were standing there.
Once they returned tot he ring, Ruby nailed a Riott Kick and then got a very close near fall.
Ruby distracted the referee saying there was something in her eye as Charlotte rolled outside but was flanked by Morgan and Loan. Naomi and Becky Lynch ran down to stop them as the fight continued in the ring.
Flair hit a slingshot suplex but caught a kick to the midsection before having her face driven into the top turnbuckle. Riott hit a stage dive senton for a two count.
Riott locked on a submission hold and stretched Charlotte as she yelled "they're gonna see you fail! Look at your friends! They're gonna see you fail!" That was quite a nice touch.
Ruby hit a nice STO for a two count before climbing to the top rope. She tried for another stage dive senton but Flair was ready and got the knees up. Charlotte hit a neckbreaker and climbed up top but Riott pushed her off the top rope sending her plummeting to the ground where she bounced off the barricade.
Riott went for a suicide dive but Flair caught her to send Ruby into the barricade. Then Charlotte stood on the barricade and hit a moonsault before rolling Ruby back in for a two count. Charlotte landed a knee to the face but she missed a charge in the corner. Ruby rocked Flair as she sat on the top rope and then Riott climbed up to join her.
Riott hit a top rope hurricanrana for a two count. They traded chops until Charlotte started to win out only proving you should never get into a chopping contest with a Flair.
Ruby took out Flair's leg and sent her into the ring post. Morgan and Logan baited Becky and Naomi into getting involved. While the referee ejected the babyfaces, Liv and Sarah were pummeling Flair on the other side. Then the referee kicked them out too as Liv Morgan screamed bloody murder and the crowd sang the "na na na na goodbye" song at them.
Flair soon sent Ruby flying into the turnbuckle and then she hit a spear followed by a Figure 4 into a Figure 8 when Riott tapped out.
Winner: Charlotte Flair via submission
Suddenly Asuka's music broke out and the Nationwide Arena lost a roof. The Empress Of Tomorrow came out in her robe and mask and danced all around the ring before posing to the crowd.
Then Asuka stood up to Charlotte and looked intently into her eyes before pointing to the WrestleMania sign that was hanging from the ceiling.
"Oh my god" Corey Graves said, "I think it's safe to say Asuka's made her decision. Alexa Bliss must be relieved."
AJ Styles vs Kevin Owens vs Sami Zayn vs Dolph Ziggler vs Baron Corbin vs John Cena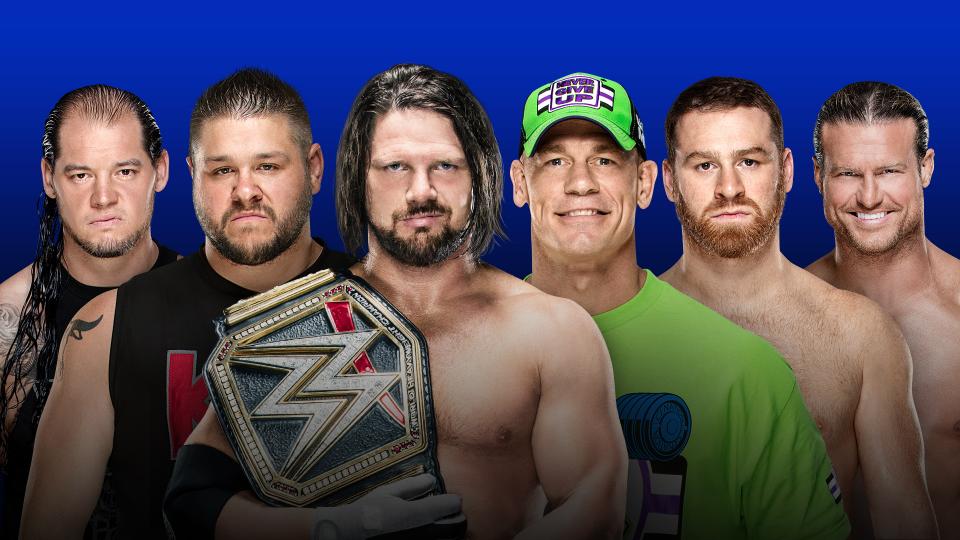 John Cena started the match out by hitting everyone except for AJ Styles with an AA. Then John and Styles had a little chance for to square off. Cena hit a shoulder block that sent AJ down but Styles soon fought back,
Cena got AJ up for an AA but Styles landed on his feet. Then everyone got on the apron and surrounded Cena as he tried to back them off. The crowd chanted "yes" as they all attacked him at once and stomped away at Cena in a 5 on 1 beatdown.
KO tossed Cena out of the ring and then it was every man for himself.  They ended up brawling outside the ring for a bit and Corbin went AJ crashing off the barrier before he sent KO into the barricade as well.
Styles pulled the top rope down sending Baron to the floor but Sami Zayn was in there quickly. After Styles dispatched of Sami, KO jumped in and sent KO to the mat. Ziggler ran in and took a fireman's carry neckbreaker before leaving.
Styles hit a move on Sami and pinned him before KO broke it up. Kevin climbed to the top rope but AJ started fighting him until he took a headbutt and was sent to the canvas. Baron jumped in the ring and took out AJ but Cena nailed him. Ziggler jumped in and ate a DDT and then Owens hit a Bullfrog Splash for a two count until AJ broke up the pin.
KO and AJ fought in the middle of the ring for a bit until Styles his a Pele Kick and tried for a Styles Clash but Owens went AJ to the floor off the reversal. Baron nailed a chokeslam backbreaker on KO and Dolph hit a Zig Zag. Then Cena jumped in and sat both Sami and Ziggler down for a double 5 Knuckle Shuffle.
Dolph reversed an AA into a Fameasser in a move that was just about as perfect of a reversal you could ask for, really. That was quite impressive.
Cena avoided a Superkick from Ziggler and locked in an STF but AJ broke up the submission hold. Cena got AJ up for the AA but AJ reversed it into a Styles Clash but Zayn ran in and stole the pinfall 1-2-kick out!
Then Baron jumped in the ring and tried to fight Zayn off. Baron took off KO's head with that clothesline he likes to do after he runs around the ring post. Ziggler avoided an End Of Days but still tossed the Show Off over the barricade before leaving to fight Dolph in the crowd.
Baron set Ziggler up near the boards where the Columbus Bluejackets play hockey and then he speared Dolph through them. Meanwhile, KO cleaned off an announce table and got AJ up on top.
"This is my show!" KO yelled before Styles nailed a kick to the head. Soon Zayn and Styles were sent into the time keeper's area while John Cena jumped up on the announce table to pick up KO.
Owens fought Cena off but AJ jumped up and caught an AA through the table while Cena looked on to analyze the situation. John tossed Kevin in the ring and Sami jumped in to throw Cena out of the ring.
Suddenly, it was KO and SZ in the ring together. They took their time as Sami said "you know I'm a man of my word" as he started to lay down so Kevin could pin him. But Owens didn't jump down and pin him. Instead, he just looked down and Zayn pulled Owens down at the last minute and tried to roll him up for a pin.
Sami and Kevin fought for a bit until Owens sent Zayn bouncing off the barricade on the outside and then they fought on the apron where Owens took a backdrop which was better than the powerbomb he was trying to land on Zayn.
Suddenly, Sami Zayn noticed Shane McMahon at ringside, "you got a good enough seat, Shane? Is this what you wanted?" Zayn asked. Then KO went to superkick Sami but Zayn moved and KO connected on McMahon.
Sami took KO out afterward but the damage was done to Shane McMahon. They returned to the ring and as Sami was going for a Helluva Kick, KO nailed a superkick and sent him out of the ring. Dolph ran in and tried to hit a Fameasser but it turned into a pop-up powerbomb. 1-2- and Shane McMahon drug the referee out of the ring.
Then Sami nailed a Helluva Kick on Kevin in the middle of all the confusion. 1-2- and Shane pulled Sami out of the ring. "Commissioner hothead has finally overstepped his bounds," Corey Graves said.
Ziggler nailed a Fameasser for another pinfall that was broken up in the process whole Baron brought the ring steps into the ring and started whacking everyone with them. Then Cena got in the ring and he blocked the steps and took them from Baron to return fire.
Cena sat the steps in the ring and got Baron up for an AA and landed it on the steps. 1-2- and the pinfall was broken up by Dolph Ziggler. "Maybe Shane McMahon could have gotten in there to break that one up," Graves quipped.
Ziggler avoided a shot from the stairs but Cena hit an AA and tried to go for another one but KO jumped in and nailed a pop-up powerbomb on Cena. Suddenly, AJ hit a Phenomenal Forearm out of nowhere on KO. 1-2-3 and that's all she wrote for Fastlane.
Winner: AJ Styles via pinfall
As AJ Styles posed under the Wrestlemania sign, Shane McMahon applauded the champion. As he walked away both Sami Zayn and Kevin Owens sat and looked up at him in exhausted disbelief.
John Cena sat in the corner of the ring looking upset and he even pushed the camera out of his face which was a nice touch. He looked upset with no visible Road To WrestleMania yet at that point.
But AJ Styles vs Shinsuke Nakamura will happen at WrestleMania meaning the dream match is on.