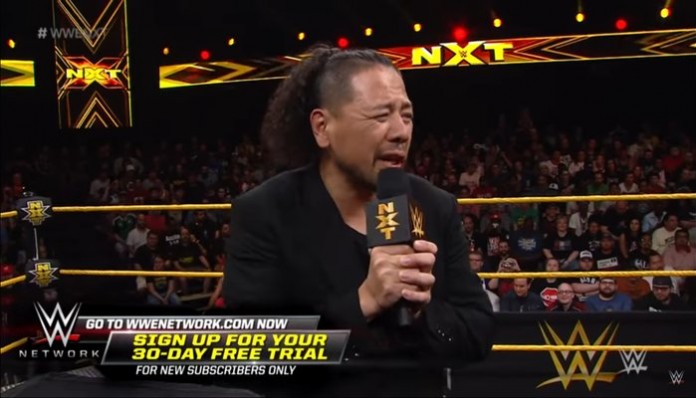 Shinsuke Nakamura made his WWE main roster on the SmackDown Live following WrestleMania 33. But he still had unfinished business to take care of first. The King Of Strong Style had to say goodbye to his home in NXT first.
On tonight's episode of NXT, Shinsuke Nakamura delivered an emotional speech to bid farewell to the Florida crowd that took him in as a member of their extended family just over a year ago. Even though he came in polished and ready to rumble, Nakamura has still grown a lot in the time he's been in NXT.
During his time in NXT, Shinsuke Nakamura has taken on the best WWE's developmental brand had to offer. He picked up the NXT Championship and held it for an impressive reign before dropping it to Bobby Roode at NXT TakeOver: San Antonio. Now Nakamura is headed to SmackDown Live to take on even more challenges.
The best part of his address was the fact that he barely got a word in because the crowd kept chanting for Nakamura. He is obviously very loved in Full Sail University as well as the rest of the world. But now he belongs to the world, and not just NXT.
Shinsuke Nakamura's goodbye to NXT was a very special thing. He bid farewell to his home in a very touching address. It's just too bad the video WWE posted on their YouTube cut off before the final moments of his goodbye. Because after he finished, the entire locker room including Triple H and Finn Balor gathered on the entrance ramp to applaud Nakamura for all he's done in NXT.
We can't wait to see what Shinsuke Nakamura is going to accomplish on WWE's main roster. The 37-year-old Nakamura might have a ton of accolades under his belt already, but he's sure to keep racking them up for years to come.
But first, he had to say goodbye to WWE's developmental system. It's hard to say goodbye, but at least we know exactly where we can find Shinsuke Nakamura. He'll be on SmackDown Live.