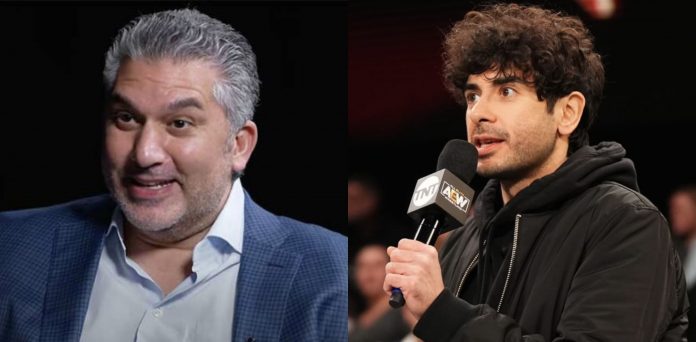 A few weeks ago Tony Khan dropped a huge announcement on the wrestling world when it was announced that AEW All In will take place from Wembley Stadium in August. Since then there's been a lot of speculation regarding how many tickets the event could sell, and ticket sales appear to be going well so far.
The pre-sale for All In kicked off this week and Tony Khan announced that so far 36,000 tickets have been sold generating $4.7 million dollars so far.
Today's one of the best days in @AEW history

Thank you to all buying #AEWAllIn tickets today, off to an AMAZING start already
36,000 sold for £3.8M ($4.7M) +
we're only getting started, more great seats are going on-sale!

Let's celebrate TOMORROW on Wednesday Night #AEWDynamite

— Tony Khan (@TonyKhan) May 2, 2023
ESPN Boxing Insider Mike Coppinger made a big claim about the seating for All In at Wembley Stadium when he posted a tweet saying that he's heard the venue will be set up for 40,000 fans, which he called a "far cry" from the 94,000 fans that attended that Tyson Fury vs. Dillian Whyte fight at Wembley.
Hearing Wembley is scaled for only 40K for AEW – far cry from last April when I was ringside for Tyson Fury-Dillian Whyte and it was packed to the brim with 94,000. Nothing beats the big-fight feel at Wembley

— Mike Coppinger (@MikeCoppinger) May 2, 2023
However, the tweet didn't go over well with Tony Khan as he claimed that Mike Coppinger is lying, and even sent a message to WWE CEO Nick Khan when he posted the following response:
"LIES. What a load of crap. Tell your agent Nick Khan to shove it up his a**"
Tony Khan didn't stop there as he questioned who Mike's source was for the information when he posted a follow up tweet which said, "Since you carry the credentials of a credible reporter + represent the Worldwide Leader, I'm just curious: who was your source for this, and how can a reporter representing ESPN tweet something about a legit news story that's so blatantly wrong and easily verified as a falsehood?"
All In will air live from Wembley Stadium on Sunday, August 27. Stay tuned for updates.