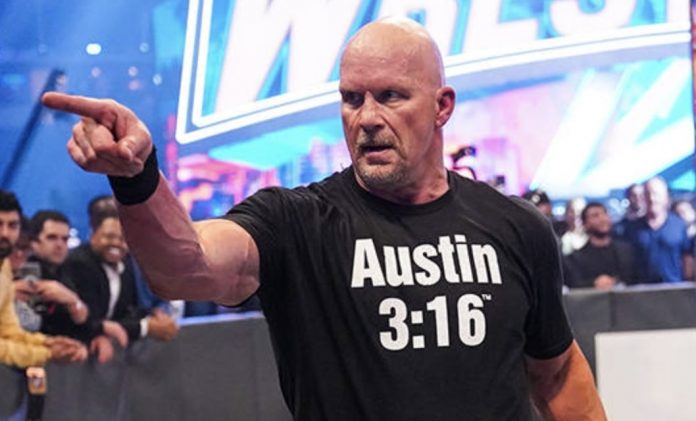 Following his match with The Rock at WrestleMania 19, Steve Austin retired from in-ring competition, but in the weeks leading up to WrestleMania this year the rumor mill started turning.
There was a lot of talk about Austin possibly wrestling Kevin Owens at WrestleMania 38, and when Owens challenged the Texas Rattlesnake to a match on the Grandest Stage of Them All the challenge was accepted. Steve Austin picked up a big win over KO at Mania, but during an appearance on the Brewbound Podcast he noted that he's not sure if he'll be part of next year's show.
Well [Austin laughed when asked if he'll be at WrestleMania 39], for me to participate in WrestleMania 38, if you would've told me, 'Hey man, you're gonna be a part of WrestleMania 38. Not only that, you're gonna main event night one,' I would've said you're full of sh*t and you're crazy and there I was in Dallas, Texas, headlining main event on day one so, never say 'never' but I would really imagine that within the scope of that show, that's gonna be a big show in a big time city and it'll be a two-night event again so, I'm not — I'm sure I'm done wrestling per se, but as a part of WWE, I can't imagine I would not be there in some capacity and I'm not booking myself on the show because I didn't book myself on 38. That's a Vince [McMahon] thing and I have a great relationship with him and if I get the call, I'll be there."
Do you think Steve Austin should be a part of WrestleMania 39? Sound off in the comments below.
H/T Post Wrestling