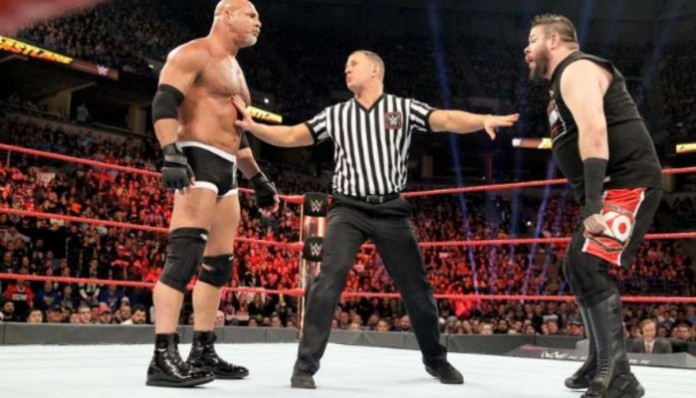 Goldberg is the current WWE Universal Champion and he won the title after he squashed Kevin Owens at WWE Fastlane. Goldberg destroyed Kevin Owens in only 22 seconds, and Kevin's former friend Sami Zayn also had a rough night as he was pummeled by Samoa Joe.
Zayn recently spoke to The Mirror about the controversial Universal Title match and he says he has mixed emotions about the finish.
"I'm pretty split on this really, because a part of me obviously resents Kevin. There's a lot of history, it's a pretty volatile relationship – especially where we're at now. But at the same time look… this is still a guy that's worked 15 years to come this close to being in the main event of WrestleMania and having it slip through his fingers right before it happens… part of me is glad it happened, but part of me feels like it sucks. It sucks for him, because he came real close and he held that Universal Championship for a long time, then when you come that close to actually defending it at WrestleMania, you kind of fall right before the finish line. This is still a guy I've known for 15 years, a guy who worked his ass off to get to where he is, so it kind of sucks to see that happen."
We are dangerously close to WrestleMania 33 and with the event only a few weeks away, Sami Zayn still doesn't have a match on the card. Zayn was also asked about what he thinks he'll be doing at the big event, and he admitted that he has no idea.
"To be honest I really don't know. This time of year is so crazy and WrestleMania is so big and there are always these marquee matches, so real estate is really tight on WrestleMania. So I don't know what I will be doing. Right now I'm involved with Samoa Joe, whether that will carry on to WrestleMania, I really don't know, it remains to be seen. The card for WrestleMania is always changing."
With no multi-man ladder match at this year's show it looks like WWE is having a bit of a tough time finding a place for him on the card. As he mentioned, he's currently in a feud with Samoa Joe, so perhaps he will be able to take on the Samoa Submission Machine one more time at the show of shows.
It's official folks, Roman Reigns is going to face The Undertaker at WrestleMania 33. According to Roman Reigns he's going to be the man that retires The Undertaker and we're talking about whether or not it should happen on this week's episode of Still Real Radio. You can check out the latest episode below and if you like what you hear, please subscribe to the show on iTunes.