Kevin Steens "Hell Rising" Documentary was released in 2013 and was pulled from the ROH store shortly after its release date but news broke today that ROH will be Re-Releasing the DVD that features a no-holds-barred "shoot" interview with Steen where he touches on a lot of subjects…most notably his relationship with Jim Cornette.
ROH sent out the following information on the DVD today…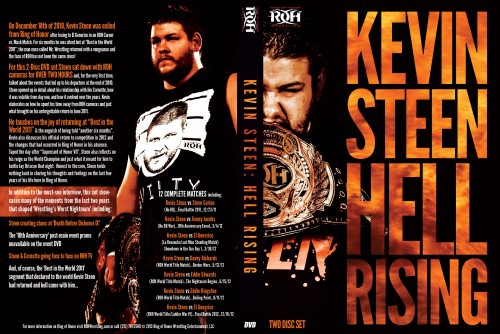 KEVIN STEEN – HELL RISING RELEASED ON DVD
+On  December 18th of 2010, Kevin Steen was exiled from Ring of Honor after losing to  El Generico in an ROH Career vs. Mask Match.  For six months he was silent but  at "Best in the World 2011", the man once called Mr. Wrestling returned with a  vengeance and the face of ROH has not been the same since!
For this  2-Disc DVD set Steen sat down with ROH cameras for OVER TWO HOURS and for the  very first time talked about the events that led up to his departure at the end  of 2010.  Steen opened up in detail about his relationship with Jim Cornette,  how it was volatile from day one, and how it evolved over the years.

Kevin  elaborates on how he spent his time away from ROH cameras and just what brought  on his unforgettable return in June 2011.
He touches on the joy of  returning at "Best in the World 2011" & the anguish of being told "another  six months".

Kevin also discusses his official return to competition in 2012 and  the changes that had occurred in Ring of Honor in his absence.  Taped the day  after "Supercard of Honor VII", Steen reflects on his reign as the World  Champion and just what it meant for him to battle Jay Briscoe that night.

Honest to the core, Steen holds nothing back in sharing his thoughts and  feelings on the last few years of his life here in Ring of Honor.
In  addition to the must-see interview, this set showcases many of the moments from  the last two years that shaped "Wrestling's Worst Nightmare" including:
– Steen creating chaos at "Death Before Dishonor IX"- The "10th Anniversary"  post-main event promo unavailable on the event DVD- Steen & Cornette going  face to face on ROH TV- And, of course, the "Best in the World 2011" segment  that declared to the world Kevin Steen had returned and hell came with  him…
Plus a dozen complete matches including:
1) Kevin Steen vs. Steve  Corino…Final Battle 2011 12/23/11
2) Kevin Steen vs. Jimmy Jacobs (No DQ  War)…10th Anniversary Event 3/4/12
3) Kevin Steen vs. El Generico (La  Revancha Last Man Standing Match)…Showdown in the Sun Day 1 3/30/12
4)  Kevin Steen vs. Davey Richards (World Title Match)…Border Wars 5/12/12
5)  Kevin Steen vs. Eddie Edwards (World Title Match)…The Nightmare Begins  6/15/12
6) Kevin Steen vs. Roderick Strong (World Title Match)…Live Strong  6/30/12
7) Kevin Steen vs. Eddie Kingston (World Title Match)…Boiling  Point 8/11/12
8) Kevin Steen vs. Cedric Alexander (World Title Match)…PWX:  There Goes The Neighborhood 8/18/12
9) Kevin Steen vs. Jay Lethal (ROH World  Title Match)…Killer Instinct 10/6/12
10) Kevin Steen vs. El Generico (World  Title/Ladder War IV)…Final Battle 2012 12/16/12
And More…