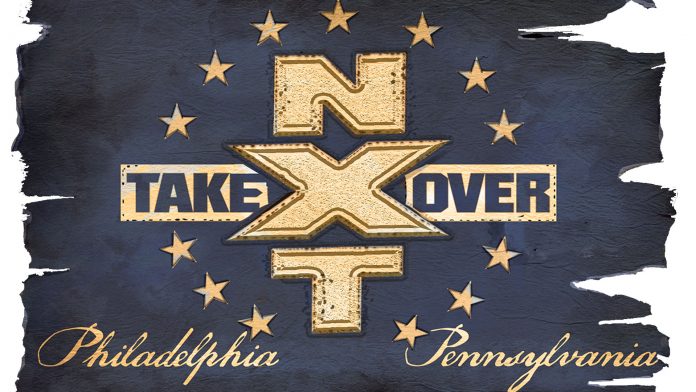 During the kickoff show for NXT TakeOver: Philadelphia the NXT Year End Awards were given out and as you can see, Aleister Black and Asuka did pretty well.
And the winners are…
Rivalry of the Year: Aleister Black vs. Velveteen Dream
Male Superstar of the year: Aleister Black
Breakout Superstar of the year: Aleister Black
Female Superstar of the year: Asuka
Match of the year: Tyler Bate vs Pete Dunne (WWE United Kingdom Championship match NXT TakeOver: Chicago)
Overall Superstar of the year: Asuka
Now without further ado, let's get right to the show.
Paul Heyman's promo during the opening video package about Philly was amazing even if Heyman has nothing to do with NXT.
Nigel McGuinness was apparently under the weather so he wasn't on commentary for the event which is a shame because his voice and knowledge are really appreciated.
Bobby Fish and Kyle O'Reilly vs The Authors Of Pain (NXT Tag Team Titles)
This match was a brawl before the bell and Undisputed Era rolled out of the ring while Paul Ellering chastised his massive clients. The match finally started and Fish rolled out of the ring once again to bide his time while Rezar waited in the ring.
O'Reilly got the tag and avoided Rezar as much as possible but it didn't last for long. Kyle tried to kick Rezar's legs but was just taken down and pounded on his opponent. O'Reilly transitioned into a triangle and hit some strikes before finally letting go.
Fish got the tag and continued to work on Rezar but Akam got the tag and Bobby took some damage. Paul Ellering barked orders from ringside while Akam took O'Reilly down when he was tagged in.
The fight went outside for a bit while Fish and O'Reilly tried to avoid contact but it didn't prove successful at all. After O'Reilly took a Ric Flair flop off the apron, Fish took a sick face-first flapjack onto the barrier.
Akam acted like he tweaked his knee during a doubleteam move but the match continued. However, Fish hit that left leg from the apron and caused more damage. Then Bobby Fish ran through the ring and tackled Rezar through the ropes and it was a rather nice move.
Undisputed Era focused on Akam's left knee and he tried to fight back or get to Rezar but they were very insistent about causing damage and he continued to sell it. Fish and O'Reilly used several doubleteam moves on Akam's leg as the continued to chop away at him. Fish turned around and made a mistake when he hit Rezar because Akam hit a back body drop and tagged in his now-furious partner who ran roughshod over both Fish and O'Reilly.
Rezar picked up both of his opponents and hit a double fallaway slam for a two count. O'Reilly tried to choke Rezar out, but it didn't work. Then he hit a knee to the big man's shoulder and that worked just fine to slow him down. Fish hit Rezar with an exploder suplex for a two count and the crowd was very hot at this point.
Rezar fought out of another doubleteam move and took out both Fish and O'Reilly while Akam got back to his place on the apron for the tag. Fish hit a leaping knee strike on Rezar and O'Reilly locked a leg submission on Akam. Then Akam tossed Bobby onto Fish to break up the submission hold.
This was amazing tag team wrestling.
Once it was just O'Reilly and Akam in the ring, Bobby started kicking away at that left leg once more. But Akam hulked up and hit an overhead suplex and drove his knee into O'Reilly's face, took out Fish on the apron, and hit a bucklebomb on O'Reilly.
Then AOP hit the Super Collider on Undisputed Era, but O'Reilly avoided his powerbomb and kicked Rezar out of the ring to score a roll-up pin on Akam for the win and retain the NXT Tag Team Titles.
It wouldn't surprise me at all to see AOP on the main roster very soon.
Winners and STILL NXT Tag Team Champions: Bobby Fish and Kyle O'Reilly
Velveteen Dream vs Kassius Ohno
This could be something special, but it would be wise for Dream to pick up the win in this match seeing how he lost such an epic battle at NXT TakeOver: WarGames. But it would still be nice for Kassius Ohno to eventually be used as something more than someone who is great at making talent look amazing.
Velveteen Dream had a guy holding a pillow with a mouthpiece on it which Dream swapped his gum out for which was clever. Dream boxed with the top rope a little bit and then the match got started.
Dream had previously stated he was going to knock KO out in less than 30 seconds so the crowd started counting right away. Dream landed a punch that did knock him out but it surprised Dream so much that he did it that he didn't get the tag. So KO got up and gave him a sick forearm and knocked him out of the ring. Kassius knocked Dream getting back into the ring but Velveen Dream followed up with a spinebuster.
The two fought on and slowed the match down a bit so Dream could apply some punishment to Kassius Ohno. KO hit a chop to Dream's chest but it didn't help things as he soon went back down into a chinlock. Ohno got up with Dream on his back but he soon knocked Kassius into the turnbuckle and beat him down. "Dream over!" Velveteen Dream yelled.
Dream hit a double axhandle and continued his attack on Ohno which he said, "now what's my name?"
Dream picked Ohno up into a fireman's carry but he fought out of it then he tried a suplex but Kassius countered it into a nice throw that sent Velveteen Dream flipping through the air before crashing to the mat.
Ohno hit a few chops and takedowns followed by a senton bomb and a cyclone kick for a two count.
Dream nearly scored a roll-up pin but he kicked out, then he scored a superkick and a back pocket DDT for a two count of his own. Velveteen Dream climbed to the top rope but Ohno knocked him out in midair and followed with another forearm. Dream countered a flip into a sick slam that was very dangerous looking but KO hit a rolling elbow when they got up for another near fall.
Then Dream hit a rolling death valley driver and climbed up to the top rope where he hit his sick Purple Rainmaker elbow drop for the win. What a match!
Winner: Velveteen Dream via pinfall
Ember Moon vs Shayna Baszler (NXT Women's Title)
This match was going to be a war and bound to be brutal. The camera followed Baszler through the backstage area and up to the entrance giving this match a very real feel to it. Ember Moon was trying to protect the rest of the roster from Shayna and actually called her out to do so.
These two fought fiercely in the opening moments which saw neither one take a real advantage. Moon landed several kicks to the head that drove Baszler out of the ring then Ember hit a suicide dive as the action returned to the ring and the fight carried on.
But Shayna could soon take control and bring Moon down with an arm submission hold while she worked on Ember's digits at the same time. Baszler landed some elbow strikes and continued her focus on Moon's arm.
Ember slapped her a couple of times to create some separation and hit a springboard crossbody for a two count. While selling her arm, she went up top and hit the Eclipse but couldn't make the pin while she held her arm in torturous pain.
The medical staff ran to the ring while the crowd booed and chanted "bullsh-t."
Moon walked back over to her opponent and Baszler locked on an armbar. While Moon struggled, she finally wrapped her leg around the bottom rope. Shayna tried to pull moon back to the middle of the ring and was finally successful. She locked on an armbar once again as Ember struggled through the pain.
Moon started to look weak while Baszler wrenched at her arm and twisted her fingers. Shayna flipped her around and then Moon scored a roll-up pin for the surprisingly sudden win.
Winner and STILL NXT Women's Champion: Ember Moon
But after the match, Shayna Baszler attacked Ember Moon and choked her out on the entrance ramp. The referees tried to pull her off but she went right back to it leaving the champion lifeless on the base of the entrance ramp with her arm twisted behind her. Before she left, while soaking in the "you suck" chants, Baszler threw up the 4 Horsewomen sign while laughing through her mouthpiece.
They showed Trevor "Ricochet" Mann in the crowd and he got an amazing pop. Previously in the night they also showed War Machine in the audience as well so that's exciting.
Aleister Black vs Adam Cole (Extreme Rules Match) 
This match is happening just because it needs to and since it's in Philly it might as well be an extreme rules match.
The crowd was chanting "this is awesome" before they even touched each other.
Black scored a kick and Cole got out of the ring then Adam grabbed a chair while the crowd chanted "ECW." Block ducked a chair shot and eventually lost the chair and rolled out of the ring. Black unfolded the chair and sat on it. Adam came after Black and was tossed outside.
Black landed a sick forearm on the outside as they traded shots at ringside. Then Cole started rooting under the ring for treasures. He found a couple chairs and a trashcan that he tossed in the ring… that'll work.
Cole sent Black into the barricade and kept looking under the ring to find a kendo stick while Aleister found one of his own on the other side. They both rolled in the ring with kendo sticks and there was a bit of a stand-off. Aleister threw his stick down and gestured to bring it on so Cole swung at Black but he was taken down with a forearm.
But Black went for a springboard moonsault and took a kendo stick to the abdomen. Cole smashed Black in the back with his kendo stick and stuck the stick in Black's teeth while he got to his feet and then hit a backstabber on Aleister.
"Get the tables" the crowd chanted as Cole rolled out of the ring to do just that. He sat up the table on the outside diagonal to a turnbuckle which was saved for later. Cole's leg was bleeding for some reason by the way.
Cold brought Black to the turnbuckle and climbed up top but Aleister hit a top rope slam on Cole through the edge of a trashcan which probably hurt more than if he would have landed directly on it.
Then Aleister Black rolled outside and picked up another table which he sat up next to the other one while people booed that he didn't stack them. Black acted like he was getting back in the ring and stopped before getting a ladder but Cole dropkicked the ladder into him to send Aleister into the barricade.
Adam Cole wedged the ladder up in the corner and his hand was covered in blood at this point all from his leg apparently. Black almost suplexed Cole through the ladder but he avoided it. Then they went to the other side of the ring where Cole hit some mounted punches followed by Black turning it into an electric chair. Aleister walked to the other side of the ring and launched Cole into the ladder.
The referee tended to Cole and the ringside medics visited him to tend to all the blood. Maybe his hand was cut, but there was a considerable amount of blood. Black took a chair to the midsection and sat up the chair but he couldn't lift Black up so Aleister hit a double stomp and placed Cole's head against the chair and climbed up to stomp through it but Cole popped up and tossed the chair at Black which he caught. Adam nailed a kick to the chair which sent Aleister falling down through the two tables.
When they returned to the ring, Black kicked out of a pin as the crowd chanted, "this is awesome."
Cole unfolded the chair once again and picked up another one that he sat in front of it… then he changed his mind and sat them back-to-back. Adam picked Black up but Aleister countered into a fireman's carry where he drove Cole's back into the pointed surface of the backs of those two steel chairs.
Cole picked up a chair but Black dropkicked the chair through his head. He covered for a pin but O'Reilly and Fish ran to the ring and pulled him out of the ring. They hit a double-team move while the crowd chanted "bullsh-t."
The two members of Undisputed Era dragged Aleister Black around the ring and cleaned off the announce table. But SaNITy ran down to stop Fish and O'Reilly. Killian Dane hit a sick suicide dive on everyone while Adam Cole looked on and Aleister Block remained prone next to the announce table.
Cole walked over to Black but his suplex attempt through the table was blocked. Then Black nailed a double knees through the table. Aleister Black's back looked like it was bleeding too. This contest took a lot from both of these guys.
Cole nailed a kick when they returned to the ring but didn't go for the cover. Adam grabbed a chair and got back to his feet. "I'm gonna end you!" he yelled as he got up and took a Black Mass. 1-2-3 and that match was insane!
Winner: Aleister Black via pinfall
They showed EC 3 in the crowd before the main event kicked off which probably means Ethan Carter III will be spending some time in developmental before he goes to the main roster unless WWE really plans on swerving us.
Andrade Cien Almas vs Johnny Gargano (NXT Championship Match)
Johnny Gargano was super over in Philly. On the same token, Andrade Cien Almas and Zelina Vega were super heat magnets and even received a masked mariachi band playing before his entrance. Almas came to the ring wearing a brightly colored La Sombra mask too.
Mauro Ranallo made no secret about Almas' CMLL background either as he spoke very openly about it which is refreshing because most careers start in WWE as far as they're concerned.
This match started with some back and forth wrestling as both men tried to gain an advantage. Gargano locked in some head scissors but Almas escaped to lock on another hold but Johnny escaped from that as well.
They showed Candice LeRae at ringside and said he recently signed to NXT as well, so there you go — that's her introduction I guess (even though she's already been on NXT).
They wrestled around a bit more and separated with nobody really gaining an advantage as they were still evenly matched while the crowd chanted, "this is wrestling."
Gargano hit a flying head scissors and a dropkick to follow up with an armdrag takedown to gain the first real advantage of the match. Almas didn't fall into Gargano's trap in the corner and stopped short to put Johnny down with a stiff chop.
They moved outside and flipped around missing each other as there was a counter for each counter. Gargano went for a flip off the apron and Almas sidestepped it as Johnny Wrestling went crashing to the mat on the outside.
Once they returned to the ring, Almas maintained control and scored a near fall. He locked in a rear face lock and weighed him down to keep Gargano on the mat. Andrade Cien Almas kept Gargano down for a bit with this grueling submission hold until Johnny Wrestling got back to his feet.
Gargano landed a kick to Almas' head from the mat and hit a chop in the corner before Andrade jumped on the apron and got Gargano in the tree of woe. Johnny avoided a double stomp from the top rope while hung up and hit a throw into the turnbuckle.
The two traded forearm shots in the middle of the ring or a bit until Gargano started to take control. He hit a flying forearm in the corner on Almas and smashed his face into the mat for a two count.
The action returned to the apron where Johnny hit a slingshot spear on Almas for another two count. The crowd was super hot by this point and chanting "Johnny Wrestling."
Andrade Cien Almas scored another near fall on Gargano and climbed to the top rope while Johnny was on the mat. Johnny moved out of the way of a moonsault but Almas landed on his feet and hit a second moonsault for a two count which was just a beautiful move.
Almas scored another forearm for a two count and Gargano hit a superkick for a two count of his own. They both went for lariats and laid each other out while the crowd applauded the match they had seen so far.
Almas scored a kick to the face and climbed to the middle rope to deliver a knee as well. Almas tried to hit a draping double arm DDT, but Johnny Wrestling slid out of it and scored a superkick to Almas' face inbetween his legs while he was still perched on top.
Gargano tried to powerbomb Almas but he countered with a double knees. Gargano countered out of another move and jumped to the apron but was caught in Almas' elevated frontface drop combo. Andrade finally nailed the draping double arm DDT but Johnny Gargano kicked out!
The crowd went ballistic as the two men got to their feet on the apron. Almas got Johnny up in a fireman's carry but he got out of the move. They traded shots and Johnny landed a kick followed by a slingshot DDT on the apron. As the two landed on the outside, Almas was spent but so was Gargano as the match could only end in the ring.
They returned to the ring but Almas kicked out of a pinfall attempt. Johnny Wrestling struggled to lock in the Gargano Escape, but Almas countered with a jawbreaker. Johnny hit a couple forearms but was caught with a back elbow. Gargano landed a forearm that turned Almas inside out and launched his face into the middle turnbuckle.
But as Johnny Gargano was looking at the crowd, Almas jumped him. Gargano kicked out of a roll-up pin and nailed a superkick for another two count while the crowd lost their minds and Zelina Vega started to panic on the outside.
"Johnny Wrestling/This is awesome" chants broke out and they were very loud. Gargano climbed to the top and Almas grabbed his foot before hitting him to hang Johnny up in the ropes.
Almas climbed up to join Johnny Gargano and hit a double stomp to Johnny's chest that sent both men toppling to the floor. Almas shoved Johnny into the ring apron while Gargano sold the pain with a dazed look on his face.
When climbed back in the ring and Almas nailed the knee strikes but Gargano kicked out. "No!" Zelina Vega screeched at ringside while the match carried on and Johnny Gargano fought to remember where he was and the "fight forever" chants started to ring out in Philly.
Gargano started to get up but Almas kept slapping him down. Then Johnny nailed a couple strikes but kept falling to his knee with each blow. These two were spent and used each other to stay upright as Almas returned a shot and Gargano nailed a reverse hurricanrana.
Johnny soon locked in the Gargano Escape as Almas tried to roll out of it but kept finding himself in the hold. Zelina Vega distracted the referee and Almas poked Gargano in the eyes.
Almas was looking for the hammerlock DDT but Johnny sent both of them to the floor. Gargano hit a suicide dive on Almas and Vega sent Gargano into the steps. They returned to the ring and Almas hit a hammerlock DDT but Gargano kicked out.
The place went insane with "yes" chants as they realized something very special was about to happen.
Gargano rolled outside and Zelina walked around to ring to get involved once again but Candice LeRae jumped the barricade and chase her away after delivering a savage beating to her.
"Thank you, Candice" chants broke out as Johnny climbed back in the ring.
Gargano hit a kick from the apron and a springboard DDT for a two count immediately followed by a Gargano Escape. Try as he might to keep the hold on, but Andrade Cien Almas' foot found the bottom rope to break up the hold.
Then moved to the apron and Cien shoved Gargano against the ring post only to deliver a double knees to Johnny Wrestling's face against the post. Gargano looked dazed as Almas climbed to the top rope and hit another draping hammerlock DDT to retain the NXT Championship.
Good lord, that was intense.
Winner and STILL NXT Champion: Andrade Cien Almas via pinfall
Before TakeOver went off the air, Tommaso Ciampa appeared out of nowhere and wrecked Johnny Wrestling with one of his crutches. Ciampa stood over Gargano with his knee brace on looking down with a solemn expression while the crowd chanted "assh-le" and he limped off while Candice LeRae tended to her husband and said, "your back's bleeding."