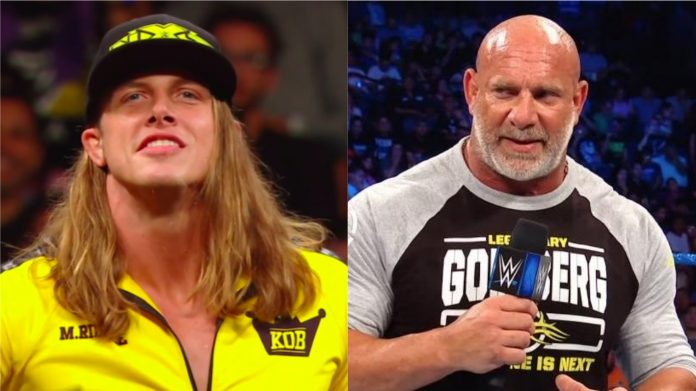 Goldberg is a WWE Hall of Famer and one of the biggest stars in the business, and Matt Riddle is still trying to make a name for himself.
It's no big secret that Riddle and Goldberg don't like one another, and Riddle has called Goldberg out on social media in the past.
At WWE SummerSlam Goldberg and Matt Riddle came face to face, and they ended up having a tense altercation backstage.
Riddle addressed the altercation on the latest episode of The Bump, and he noted that Shane McMahon thanked him for not taking a swing at Goldberg.
"After that, Shane McMahon was watching from down the hallway, like, "Oh no!" And then afterwards, Shane was like, "Hey, thanks for like, not swinging at Goldberg" You know, like, what do you expect, do you imagine, like, Matt Riddle punches Goldberg unconscious in the back? I don't know, I can't do that, that is not a stallion move."
Even though The Goldberg/Riddle drama has gotten plenty of coverage it doesn't seem that there are any plans for WWE to book a match between the two competitors.
Goldberg last competed at WrestleMania 36 where he dropped the Universal Title to Braun Strowman. There's currently no word on when, or if he might be returning to the ring in the future.
H/T Sportskeeda