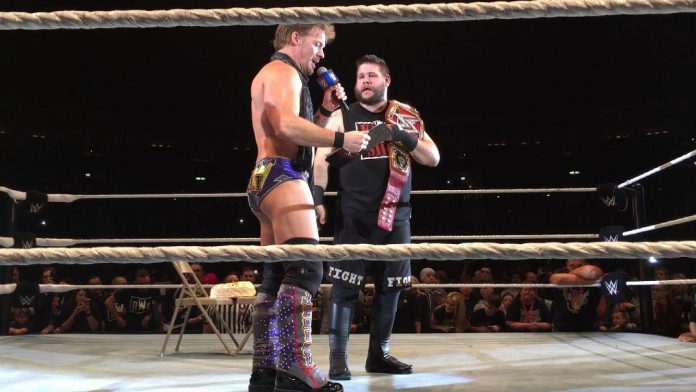 Just in case you didn't know, Chris Jericho turned 46 today. Jericho is celebrating his 46th birthday overseas with the rest of the WWE crew.
At the WWE live event in Berlin, Germany, Chris Jericho stood in the ring with his best friend Kevin Owens, as Owens and the crowd sang happy birthday to him. Various members of the WWE roster also came down to ringside to watch it all go down.
After singing to Jericho for a few seconds, Owens told Jericho to grab the List of Jericho, and write down whatever he wants for his birthday. While Chris Jericho and Kevin Owens were talking, Seth Rollins made his way into the ring and smashed Jericho's cake into his face.
Rollins then hit Kevin Owens with the Pedigree, as Jericho slipped on cake frosting. Check it out below.
Vince McMahon also wished Chris Jericho a happy birthday on Twitter, and he posted a photo of Chris Jericho backstage, covered in cake.
Happy Birthday @IAmJericho! pic.twitter.com/yddXn4r6c2

— Vince McMahon (@VinceMcMahon) November 9, 2016
Chris Jericho also shared another picture of his cake covered face on Instagram.
Chris Jericho will team up with his best friend, Universal Champion Kevin Owens, Roman Reigns, Braun Strowman and Seth Rollins to take on Team SmackDown at Survivor series. Team SmackDown will be made up of WWE World Champion AJ Styles, Shane McMahon, Randy Orton, Bray Wyatt and Dean Ambrose.