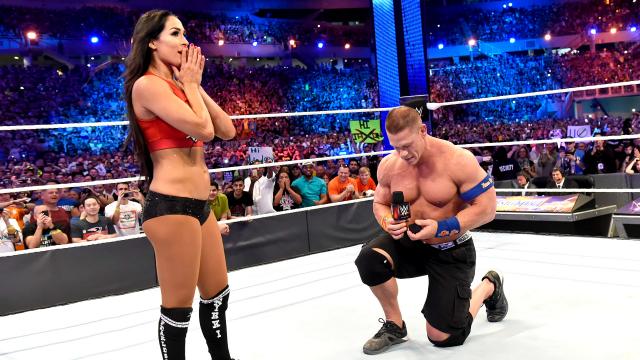 Whether you love him or hate him, there's no denying that John Cena is one of the biggest stars in WWE history. Some of the most important moments in John Cena's career have taken place at WrestleMania, and a few months ago he added another chapter to his WrestleMania legacy when he got down on one knee in the middle of the ring and proposed to his girlfriend Nikki Bella.
If you've ever seen Total Divas and/or Total Bellas, then you know it's no big secret that Nikki Bella had been hoping for John to propose for a long time. Her wish finally came true on the Grandest Stage of Them All, and John Cena recently spoke to Popsugar about why he decided WrestleMania Sunday was the perfect time to propose.
"I messed around with the idea months before and I guess it was just me having the guts enough to do it on that stage. So many of our viewers know myself and Nicole from the WWE ring, and I've been in WWE for 15 years now, [so] they're my family. WrestleMania is the one day of the year that the entire family gathers together. So, I figured it was a great way for me to tell the woman I love that she's the one I want to spend the rest of my life in front of all the people that have followed us for all of these years."
In regards to whether or not the wedding will be televised, Cena said that decision is entirely up to his bride to be, Nikki Bella.
"I'm not sure. I'm going have to divert to her on that one. She's the boss. [Her] show is called Total Bellas, so it's kind of about [her] life and if she decides to open up that moment to the rest of the world, I certainly support her. At the same time, if she were to decide that wants that moment just for us, I'd certainly support her with that as well."
Are you looking forward to the wedding? Sound off in the comments below.
On this week's episode of Still Real Radio we're talking about the road to SummerSlam, who might walk out of the big event as Universal Champion and more. We're also talking about the possibility of another WWE Superstar Shake-up, and which stars might be better off getting sent to NXT. New episodes of Still Real Radio are available every Wednesday, and uou can subscribe to the show on iTunes, and check out the latest episode below.