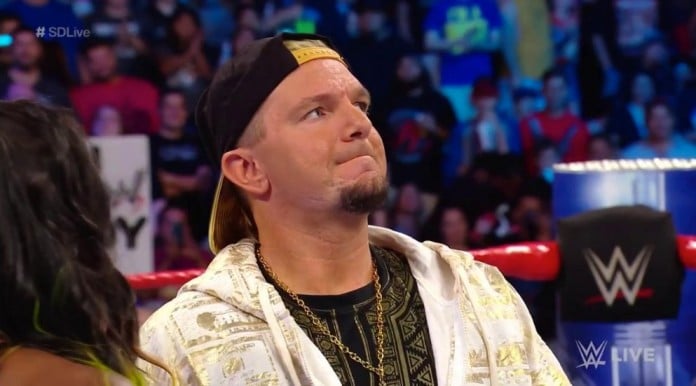 There aren't many people like James Ellsworth in the world. He surprised a lot of people and quieted his doubters in a big was once WWE signed him to a contract and had a considerable run with the company. During that time he was part of several memorable angles and played a crucial part in the first-ever Women's Money In The Bank match as well as the redo two weeks later.
Ellsworth recently sat down with Chris Jericho on Talk Is Jericho where he discussed his run with WWE and how it might have been a great time, but it left him feeling somewhat unfulfilled because there was more he felt that he could do.
But it didn't come all at once because as it turns out, WWE waited a little bit longer than usual to put pen to paper on a contract for the Chinless Wonder.
"Up until the day I got signed I didn't think it was gonna happen. Even the Braun Strowman thing, even after coming in a few times and working with AJ. Because when I was working with AJ I still wasn't signed yet. They signed me at the Survivor Series 2016 when the contract became official."
Even after a 16 month run with WWE that nobody thought would be possible for a guy who looked like James Ellsworth, he still has some regrets. However, he is also trying to remain as optimistic as possible.
"I'm appreciative of all the opportunities I got," Ellsworth continued. "I had a blast. I loved it, I loved every moment of it. Glass is kinda half-full cause I'm not content. I mean I did a lot of cool stuff there […] but am I content with the run? No, I would've liked to do more and hopefully, in the future, I'll get to do more. But I had so much fun"
Chris Jericho pointed out how Ellsworth was able to stay on television on a frequent basis and received more World Title shots than he did in 2016. Ellsworth's WWE career has often been compared to the movie, "Rudy" but he wouldn't have understood those references before someone told him he needed to see the movie.
"I never saw the movie Rudy until I was at WWE and signed. Everyone was like you gotta see it, this is you. So I went back and watched it and it does remind you of that and everything."
James Ellsworth said when you're looking at a picture of a football team and there's one little guy in the picture he stands out because and he obviously has something special or he wouldn't be on the team in the first place.
James Ellsworth had a great run with WWE considering his size and everything else that might not make him an ideal Superstar. He also thinks he could have done more, so who knows if WWE will eventually give him a call so he can have another go?
If you use any portion of the quotes from this article please credit Talk Is Jericho with a H/T to Still Real To Us for the transcription