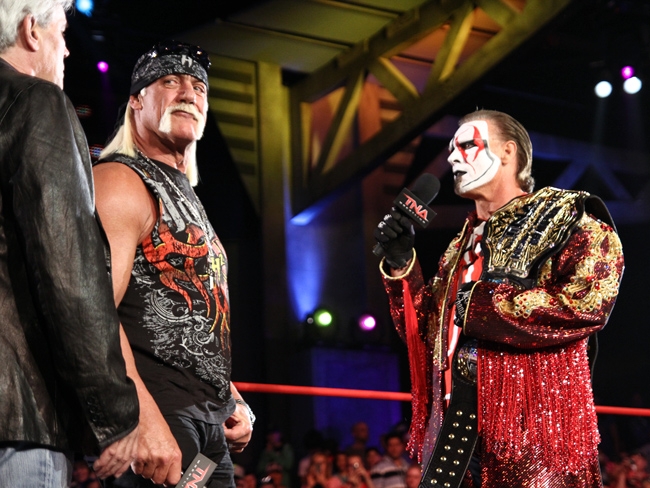 WCW was a place with a lot of battles and while some might be more memorable than others, it is possible to hold some to a much more sacred regard. Let's just face it, some matches in WCW weren't worth the hype Tony Schiavone put into them but when Hulk Hogan and Sting collided, it was always something special.
It's been years since those battles in Turner Town but fans still remember them fondly. Say what you will about WCW, but at least it afforded fans the experience of getting some dream matches, even if they were long overdue like Hulk Hogan vs Ric Flair and Sting.
Sting is a WWE Hall Of Famer now and Hulk Hogan will probably be reinstated eventually but they're both still huge names enjoying their post-pro wrestling lives to the fullest. But these two legends are about to meet once again, only it will be a much more pleasant setting.
The pair of legends will be appearing for a photo-op at the Ace Comic Con in Phoenix, Arizona on January 15th. So if you're in the area, you still have time to get to the event. It's a pretty stacked event with people like Stan Lee and Chris Evans making appearances as well as former WWE Diva Torrie Wilson.
It is probably worth attending if you can, after all, how many times can you get a chance to meet two pro wrestling legends of that magnitude on the same day? Sting is also being promoted as appearing in full face paint too which is just awesome. The only question is whether he'll go with Crow Sting, Surfer Sting, or any one of the other many incarnations of the makeup he used in TNA?
On top of that, Jimmy Hart and Eric Bischoff will also be appearing at the event. So we might just see Bischoff become GM of the Comic Con and book a match between The Vigilante and The Hulkster in Phoenix. After all, those guys have been involved in stranger booking decisions than that in their day. They are all WCW and TNA alumni after all.