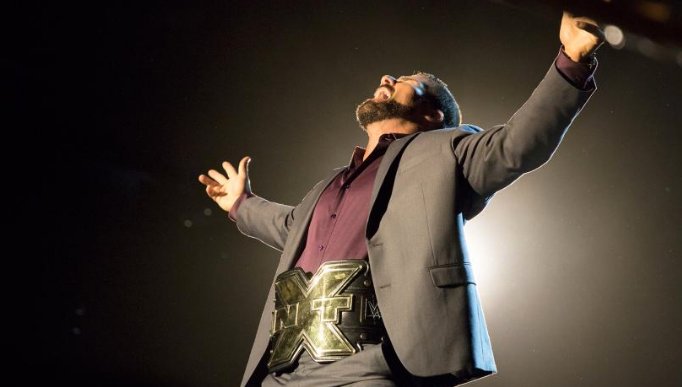 NXT kicked off their mini-tour in Philadelphia at the Tower Theater to a packed house and several fans in attendance were able to document the event for us all to see. Some highlights from the Philly show included Aleister Black (formerly Tommy End) taking on Andrade "Cien" Almas and one gracious fan captured the closing hard-hitting moments for an Instagram post.
https://www.instagram.com/p/BQUDK15Dilr/
Tough Enough alumni Mandy Rose and Daria Berenato also had a match in Philly, but they were apparently a hard sell for the crowd full of die-hard wrestling fans.
Great getting to see @ToughDaria vs @WWE_MandyRose @ #NXTPhilly shame the crowd was full of jerks pic.twitter.com/zrRG2WN7C8

— Joe Z. (@joe_crak) February 10, 2017
Angelo Dawkins was way over with the Philly fans as well. He wore red shoes during his short tag match with Montez Ford against Sanity, and the fans wanted more of him. It could be partly because he decided to graciously serve fans in line hot chocolate before the show, but it probably had more to do with the fact that he has a charismatic personality and thrilling wrestling ability.
Also, Angelo Dawkins is officially over #WeWantRedShoes @AngeloDawkins #NXTPhilly

— BalorDay (@balorday) February 10, 2017
Asuka defeated Ember Moon and Nikki Cross in a triple-threat match for her NXT Women's Title. Asuka retained her title to keep her record going as the longest running NXT Women's Champion. It's almost hard to imagine her without that belt at this point.
And still………….@WWEAsuka #NXTPhilly pic.twitter.com/KZy2yxiLsv

— Sheedie Mack (@SheedieMack) February 10, 2017
Sanity came out during the event and after they won their match, Eric Young issued an open challenge that was accepted by someone perfect for the task, Tye Dillinger. It's good to see Tye Dillinger getting such a great reaction from the same crowd that he served hot chocolate to earlier that day.
.@TowerTheater EXPLODES as Tye Dillinger accepts Eric Young's open challenge. #NXTPhilly pic.twitter.com/z9PbxTWImd

— John Corrigan (@Notready4Radio) February 10, 2017
The main event of the night was a big one indeed. NXT Tag Team Champions, The Authors of Pain teamed with NXT Champion, Bobby Roode to battle Team DIY and Shinsuke Nakamura.
Glorious. #NXTPhilly pic.twitter.com/xzVFYBVnyF

— Owen Douglass (@The_Ozone) February 10, 2017
#NXTPhilly is hype pic.twitter.com/FWoFtHJ0ml

— Jouva Moufette (@jouva) February 10, 2017
The crowd was pumped for this exciting main event, and the babyface team ended up going over with Nakamura and DIY getting a clean win to send the crowd home happy. NXT fans in Philly certainly got their money's worth, and this is just the first night of the tour.
Oh yeah, here are a few more tweets from NXT Philly that we found amusing but couldn't fit anywhere else in the article:
#SANITY is coming for you Rocky….and everyone else @WWENXT #NXTPhilly pic.twitter.com/0zyJ4fDqpP

— Nikki Cross (@NikkiCrossWWE) February 9, 2017
Security told us not to stand at #NXTPhilly. Sorry we… Got… Excited?

— E's Dad (@Kuekuatsu) February 10, 2017
#NXTPhilly just booed a silhouette of Roman Reigns

— Sad Flesh (@anarchobama) February 10, 2017
Watching heavyset white dudes try to emulate Nakamura's swagger is my new happy place. #NXTPhilly

— Bryce Remsburg (@dabryceisright) February 10, 2017
Can't wait to see the Authors of Pain Tokka and Rahzar at #NXTPhilly pic.twitter.com/lsOm2Bl8nH

— Damien Check (@Dupree721) February 10, 2017