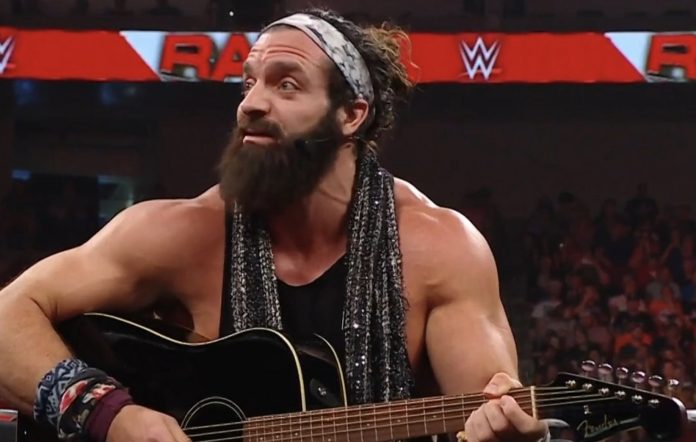 Last week Ezekiel announced that Elias would be returning to Raw on tonight's show, and fans couldn't wait to see how WWE would pull of the Elias appearance. Elias first made his return in a pre-taped backstage segment which featured him sitting side by side with Ezekiel on a couch.
Elias told Ezekiel that he's been traveling the world playing shows, but he wants to play for the WWE Universe. As Ezekiel talked about possibly winning Money in the Bank, Elias told him how proud he was of his brother. Ezekiel then left the room so Elias could get ready for his concert on Raw.
For the first time in a long time, @IAmNotEliasWWE was able to see his older brother Elias ❤️ #WWERaw pic.twitter.com/vIHdWPneX0

— WWE (@WWE) June 21, 2022
When the show returned from commercial Elias was in the ring with his guitar. He thanked the fans for welcoming him back, and for taking care of his little brother. Elias reminded the fans that WWE stands for "Walk with Elias!" He then dedicated a song to Ezekiel, and he tried to play it, but Kevin Owens interrupted him.
Kevin Owens told Elias that he's not fooled by the video of him sitting next to Ezekiel on the couch. Ezekiel then appeared on the big screen and told Kevin that he has to accept the truth. Elias told Owens that neither he nor Ezekiel are lying. He then sang a song about Kevin Owens being a liar as the fans sang "KO is a liar!"
Owens threw the guitar out of the ring and Elias hit him with a knee to the face. Elias grabbed another guitar and smashed it over KO's back to end the segment.
Backstage Kevin Owens was asked if he believes Elias and Ezekiel aren't the same person. He said that the video of them on the couch could be faked, and that Elias was probably wearing a fake beard. He challenged Elias or Ezekiel to a match next week. Ezekiel then confronted him and told him that he heard the challenge, and he can consider it accepted.
How dare you interrupt Elias' concert, @FightOwensFight! #WWERaw pic.twitter.com/AJg0y2hah6

— WWE (@WWE) June 21, 2022