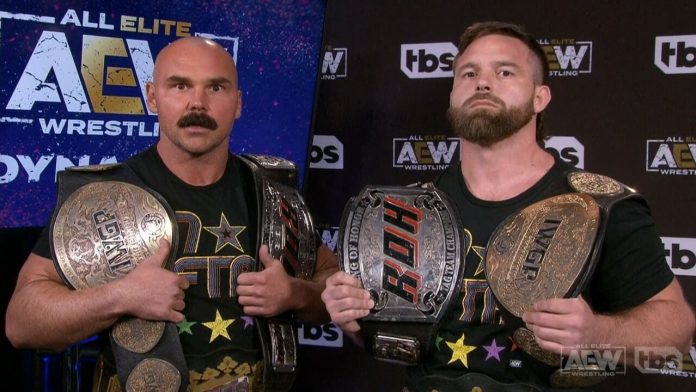 FTR spent years working in WWE as The Revival, but they parted ways with the company in 2020 and shortly after they debuted in All Elite Wrestling. Since then FTR have captured numerous championships and the wrestling world is waiting to see what they will do next.
Dax Harwood recently recalled his WWE run during an episode of the FTR podcast, and he went into detail about how much money he was making when he was wrestling for WWE.
"If you look back at 2019, I was number one, Baron [Corbin] and Cash [Wheeler] were tied for number two as far as most matches in 2019 for WWE and so we were on the road every single week, four days a week, five days a week, and so when you think I've signed this million dollar contract or whatever, it's not that lucrative.
"Our contracts were at the very bottom dollar. I mean, I'll tell you mine. I don't know about Cash's. But our first contract for the main roster was $125, $150, $175 (thousand) across the three years and that was it."
Dax also went on to point out that the company didn't pay expenses when he added, "No expenses at all… There's the potential of making more than that and breaking that $125 barrier and that $125 ceiling with merch and pay-per-views and stuff like that and house shows as well but that's what we had signed and that is a lot of money."
"That's a lot of money to me right now but you gotta think about it, if I'm on the road five days a week, and I'm spending breakfast, lunch and dinner all five days a week, let's not even talk about snacks or whatever. Breakfast, lunch and dinner, five days a week on the road while my wife is at home cooking and paying for groceries for her and my daughter and then I'm paying for rental cars and then I'm paying for hotels. I'm not making as much money as you think."
Dax Harwood has previously said that FTR asked to be pulled from AEW TV while they decide their next move. Their contracts with All Elite Wrestling are currently set to expire in April. Stay tuned for more details as they become available.