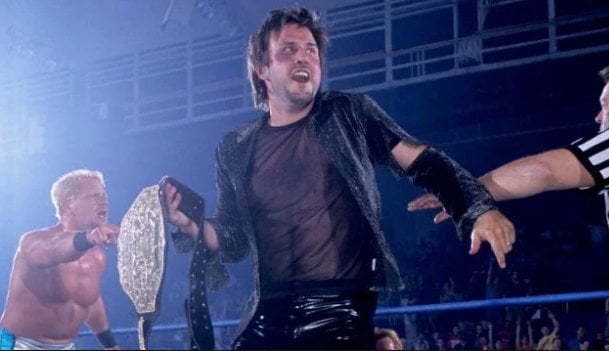 David Arquette's WCW World Championship win is viewed by many fans as one of the worst moments in professional wrestling history, and Arquette has been catching flack from the fans ever since he won the belt back in the year 2000.
Earlier this year, Arquette announced he was returning to the world of professional wrestling in a quest to gain a little respect from the fans, and he's been working hard over the last few months.
However, it appears that his hard work just isn't enough for some fans.
NWA recently announced that Arquette will be part of their pop-up show in TN on January 5, and Arquette apparently read some of the negative comments on the tweet.
We are pleased to announce that @DavidArquette will be appearing and wrestling at #NWAPopUp on January 5, 2019 in Clarksville, TN.

Tickets and a very special meet and greet on sale now https://t.co/yuw3haHbfc pic.twitter.com/gB56h9zSoD

— NWA (@nwa) December 18, 2018
In response to the negativity, Arquette posted the following:
I love all the hate I'm getting here. It baffles me that these people can love wrestling just like I do but I'm a joke in their eyes. That's why I'm doing what I'm doing. 8 months of training. Two surgeries, 3 broken ribs, traveling across the US, getting… https://t.co/lY9arwrEXS

— David Arquette (@DavidArquette) December 18, 2018
Stiffed by promoters, helping shine a light on talent I believe in that aren't getting recognized, doing little things I won't mention to give back to both wrestling and individual wrestlers and I'm the asshole? Wrestling is for the people and by the people…

— David Arquette (@DavidArquette) December 18, 2018
I may have grown up in Hollywood but I'm not some stuck up punk. I had and opportunity to be a part of WCW when I was in my 20's to travel with some of my heroes in the ring and I took it. I'm done apologizing. Now I just want to kick some ass so any of you bitches have a…

— David Arquette (@DavidArquette) December 18, 2018
Problem with me I'll see you in Tennessee or wherever I'm wrestling and we can settle it like men.

— David Arquette (@DavidArquette) December 18, 2018
Maybe my new wrestling gimmick should be David "The Joke" Arquette and when I come out the fans just laugh HAHAHA!!! HAHAHA!!! HAHAHA!!!

— David Arquette (@DavidArquette) December 18, 2018