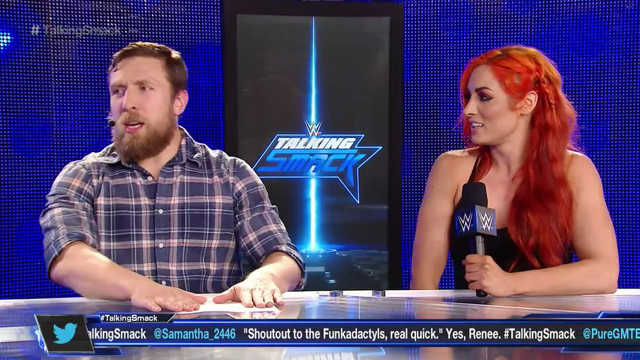 WWE fans were less than thrilled when they found out last week that Talking Smack will no longer be a weekly series on the WWE Network. Instead the show will air after SmackDown Live exclusive pay-per-views, and the fans aren't the only ones who were upset when the change was made.
Related: Daniel Bryan Jokes That He's Chad Gable's Father, Kevin Owens Comments On Talking Smack
SmackDown Live General Manager Daniel Bryan and Renee Young are normally the hosts of the show, and they have great chemistry. It appears that Bryan and Renee found out about the big change to Talking Smack the same way the rest of us did, and they're having a tough time letting the show go.
Daniel Bryan joked on Twitter that Talking Smack will be returning next week, and he and Renee will be hosting the show via Tout.
Don't worry folks, next week after #SmackdownLive, @ReneeYoungWWE and I will host a pirate version of #TalkingSmack on TOUT #fakenews

— Daniel Bryan (@WWEDanielBryan) July 19, 2017
Renee Young responded to Bryan's tweet, and it looks like she's all in.
.@WWEDanielBryan is keeping the lights on at TOUT and dammit we'll make a show up next week. #TalkingSmack https://t.co/SEU2yGB4rn

— Renee Young (@ReneeYoungWWE) July 19, 2017
John Cena didn't wrestle on this week's episode of SmackDown Live, instead he just got beat up by Rusev. But he did wrestle after the show.
Cena teamed up with Randy Orton to take on Jinder Mahal and Rusev after 205 Live, and it was Cena who got the win for his team when he put Rusev away with the Attitude Adjustment.
Dark Match Finish #sdlive 7.19.17 John Cena/ Randy Orton v Jinder Mahal/Rusev! #wwe #supportprowrestling pic.twitter.com/KjU9nZAU5i

— Brian The Guppie (@briantheguppie) July 19, 2017
On this week's episode of Still Real Radio we're talking about Samoa Joe's performance in his big Universal Championship match with Brock Lesnar, as well as all the highlights from Great Balls of Fire. We also run down what could be next for The Hardys, AJ Styles' big United States Championship win and more. You can subscribe to Still Real Radio on iTunes and check out the latest episode below.