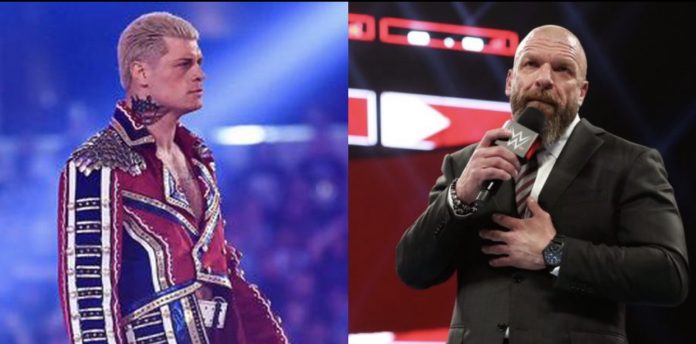 Cody Rhodes parted ways with WWE in 2016, and he decided to forge his own path in the professional wrestling business. Rhodes ended up working for numerous companies during his time away from WWE including Ring of Honor.
During an appearance on the SI Media Podcast, Cody was asked if he has discussed his infamous throne smashing moment with Triple H and he confirmed that he hasn't. However, he did note that Triple H texted him after he won the ROH World Championship in 2017.
"It's not mentioned. I'd love it to be mentioned eventually because I still have my broken throne at the Nightmare Factory. I was in the warehouse the other day with WWE, and there is the 'throne' throne. Mine is a replica. There is some imagery, some iconography that could be utilized for a show potentially. I'd love for it to eventually be talked about."
"One thing that was really nice, a conversation that him and I did have, and I didn't share this until recently, was when I won the Ring of Honor World Championship, I hadn't spoken to [Triple H] since I left, and I just got a one word text from him that said 'congrats.' This is a Ring of Honor show, ends at 1 AM, essentially. Working here, there are a bazillion shows and things you're doing. I was glad, I found out later, he watched every bit of it. He kept tabs on me. He has his finger on the pulse of what the young fans and the young roster is in to."
Cody Rhodes will have a chance to win another major championship on Sunday, April 2 when he challenges Roman Reigns for the Undisputed WWE Universal Championship at WrestleMania 39. Stay tuned for more updates as they become available.
H/T Fightful