WrestleMania XXX is less than a month away and it seems that a lot of the matches on the card are still a mystery. With the exception of Brock Lesnar Vs. The Undertaker we really don't know what the rest of the card is going to look like. Will Batista Vs. Randy Orton take place or will they make it a triple threat? Will Daniel Bryan face Triple H or will he be added to the title match? These are all questions that should be answered much sooner than later because time is running out.
The main events aren't the only thing time is running out on as the clock is ticking for the undercard as well. There are a few matches on this list that WWE seems to be building towards but as we mentioned earlier, the rest of the card is still a mystery. WWE needs to make WrestleMania XXX special and they also need to showcase why their younger talent is the future of the company. Here are a few matches that we think could accomplish those goals.
7. AJ Lee Vs. Mickie James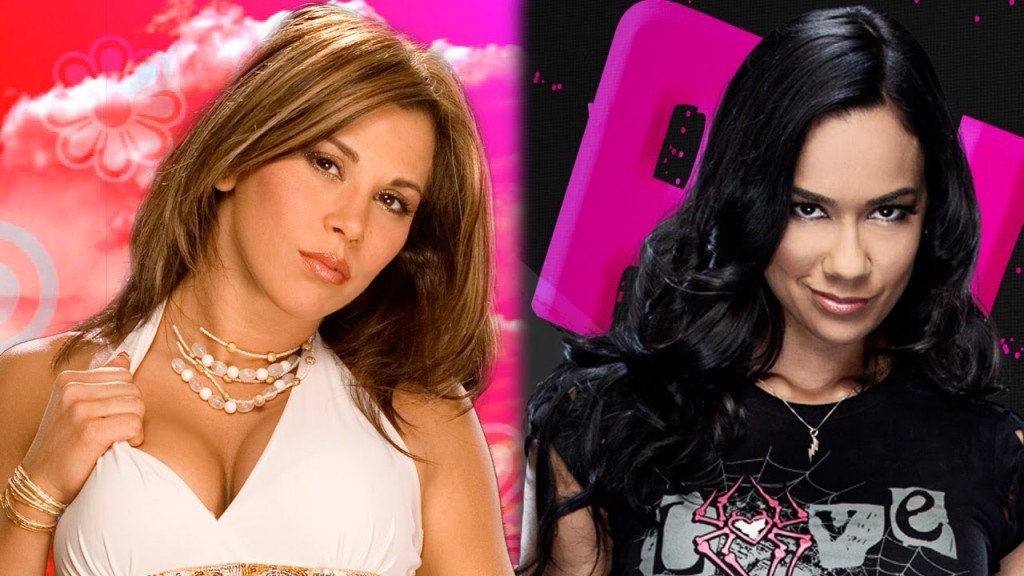 image source: youtube.com
Let's face it, AJ Lee has had one hell of a year and she has no real competition at WrestleMania. Sure you could throw Naomi (who is very talented by the way) in there but with WrestleMania less than a month away is there enough time to make the crowd care about that match?
WWE seems pretty intent on bringing back former stars and milking every last penny that they can out of them but one area where they haven't done this is the Divas division. Bringing back Mickie James for one night only would get an instant pop from the crowd and add a little bit of star power so to speak to the division.
Have AJ make an open challenge on Raw, have Mickie James accept and the match basically sells itself. AJ Lee is WWE's current resident crazy person which is a role that Mickie James used to fill so the interactions between the two could be quite memorable if you let their personalities shine. It's been a long time since there's been a legitimate Divas match at WrestleMania and this match could get some eyes on the division during WWE's big event.
Knowing WWE though we will probably just get a 6 Diva tag match which features 3 cast members from Here Comes Honey Boo Boo facing off against Ellen Degeneres and 2 of her gal pals.
6. Dolph Ziggler Vs. Kane
Dolph Ziggler desperately needs a legitimate feud and Kane could be just the guy to give him a WrestleMania moment. Dolph is one of the most talented members on the roster but where some WWE superstars get rewarded for speaking their mind, he seems to get punished. Not much has been done with Dolph Ziggler since he lost the World Heavyweight Championship last summer despite the fact that he consistently puts on stellar matches.
Dolph doesn't just need a match, he needs a feud and a storyline to help him establish some dominance in WWE. Getting Dolph involved with The Authority by way of Kane would make him seem like an important character again. Dolph has been cutting some amazing promos on the WWE app (why these don't air on TV is beyond me) where he talks about the current state of WWE and how the wrong guys are being pushed. If WWE let him cut these promos on Raw or Smackdown and then put him on The Authority's radar it could be exactly what Ziggler needs to get back on track. Kane doesn't need a win at WrestleMania but right now Dolph needs one more than ever.
5. Antonio Cesaro Vs. Jack Swagger
It seems pretty obvious that this is what WWE is building towards and they're doing a great job with it. One thing missing from the modern era is the slow burn build when it comes to midcard feuds. It seems rare that anyone outside of the main event (and quite often people in the main event) ever get a meaningful feud. The story for this match works great, two tag team partners have outgrown each other to become bitter enemies. It's easy, it's simple and it's a chance to make people care about both competitors.
Antonio Cesaro is on his way up in WWE and although he's had a million chances, a great match at WrestleMania could mean the same for Swagger as well. If this happens (and it seems pretty likely that it will) expect this match to get a lot of people's attention.
4. Big E Vs. Mark Henry
WWE seems pretty intent on getting Big E over and it's been heavily rumored he's in for a big push this year. Big E has everything it takes to become a top star in WWE. He's got a good look, his in ring style is great and he has no problem going out of his comfort zone. His mic skills could use a lot of work but that's nothing time can't fix.
The biggest problem with Big E is that we don't really have all that much of a reason to care about him. Sure he's Intercontinental Champion but what other reason do we have to get invested in him? A feud with Mark Henry could very easily get people behind Big E.
Mark Henry has shown in the past that he can draw MASSIVE heel heat under the right circumstances (his fake retirement last summer for example) and Big E needs a good villain to face off against. All that needs to be done to set this up is have Big E and Mark Henry work a few tag matches together, Henry turns on Big E and have him constantly stalk Big E up until the big event. Henry doesn't need a win at this point in his career but Big E does. It's also worth mentioning that if Big E could muster up the strength to hit Mark Henry with The Big Ending then that would make a moment worthy of his highlight reel for the rest of his career.
3. The Usos Vs. The New Age Outlaws – The Outlaws' Careers On The Line
The WWE has pretty much dismantled the tag team division which was actually looking pretty good a few short months ago. There aren't too many teams left but The Usos finally captured tag team gold which is something to be excited about. Most people thought WWE would wait until WrestleMania XXX to give The Usos their big title win but it's understandable why they didn't. Still, The Usos need opponents for WrestleMania and The New Age Outlaws look like the only game in town.
With The Usos becoming champions less than a week ago it seems unlikely that The New Age Outlaws are just going to take their tag team title loss lightly. At some point they will want a rematch and what better place to do it then at WrestleMania XXX. This means the WWE will have to drag this feud out for a few more weeks which also means they might need to raise the stakes for a bigger payoff. The best way to do this is to put The New Age Outlaws' tag team career on the line.
We all knew that The Outlaws weren't back for the long term and whether you like it or not WWE has used the veteran team pretty well. The point of bringing them back was to get a new team over and they've done just that. Anyway, the point that we're trying to make here is that they probably won't be around much longer so why not put their careers on the line?
Putting the careers of The New Age Outlaws on the line would add high stakes drama to the match and it would mean a big win for The Usos. The Usos would keep the titles then go on to be known as the team that retired The New Age Outlaws which would look pretty good on their resume. In return The Outlaws would most likely get a standing ovation from the crowd and a proper sendoff that they so richly deserve. In this scenario, everybody wins.
2. Cody Rhodes Vs. Goldust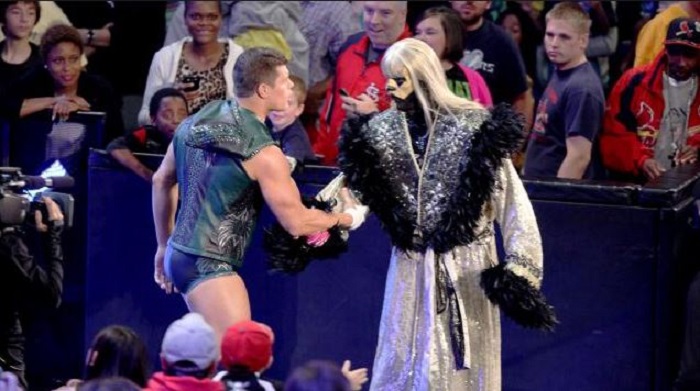 For the life of me I can't understand why WWE wouldn't want to do this match. This match has the potential to be an instant classic and the timing has never been better. Cody Rhodes and Goldust are coming off one of the best tag team runs in recent memory and they're brothers so putting them against each other at WrestleMania XXX is pretty much a no brainer.
The best part about this match is that neither of them even have to turn heel. The only story that this match needs is the story of Cody trying to prove to the world that he has everything it takes to make it to the top of this business. Goldust then offers Cody the chance to prove himself in a match against him at WrestleMania XXX and there's no chance these two wouldn't tear the house down.
Cody needs a big moment in order for him to gain some momentum in 2014 and this match could give be that exact moment.
1. The Shield – Triple Threat Match
When it comes to things WWE has done right in the past few years, The Shield is at the top of that list. You have to give credit where credit is due and WWE has done an amazing job with The Shield both as a group and as individuals. This team has dominated WWE for some time now and their split has been built up perfectly. The best payoff we can get when it comes to the breakup of The Shield is a triple threat match at WrestleMania XXX where each guy tries to prove that they're the most dominant member of the group.
Time has been kind to The Shield since their debut and each member has improved tremendously since coming to the main roster. Each of these guys is a force to be reckoned with on their own which is why they would make such a great team. The storyline is already in motion, now all WWE needs to do is put these three guys against each other and let them do what they do best. It doesn't matter who wins, if you just give these three enough time to tell a good story, this will be THE match everyone remembers when they talk about WrestleMania XXX.