Randy Orton is currently out recovering from an injury but sooner or later he's going to return, and WWE has a chance to revitalize his career when he does. Orton has had an impressive run in WWE over the past 14 years and he still has a lot left to give. But Randy Orton doesn't need to be appearing on WWE programming every single week.
Randy Orton is without a doubt a future WWE Hall of Famer, he's a living legend and he should be promoted as such. The only problem is that when WWE doesn't have anything significant for Randy Orton to do, he just ends up getting lost in the shuffle. The way to prevent Orton from getting lost in the shuffle is to only bring him out when there's a plan in place for him to have a blockbuster feud.
The time is right for Randy Orton to go part time and today we're going to look at 4 reasons why a reduced schedule is exactly what Orton needs.
#4 – WWE Needs More Special Attractions
People like to complain about part time guys who only return for a few matches a year, But it's hard to deny that this approach works wonders for stars like The Undertaker and Brock Lesnar. When WWE announces that Brock Lesnar or The Undertaker will be appearing at an event, it automatically makes that event feel more important.
With the exception of Brock Lesnar and The Undertaker, WWE is short on "special attraction" type wrestlers. The Undertaker's career is winding down and it's time to start thinking about who will replace him as a "special attraction" when he hangs up the boots for good.
Randy Orton and John Cena look primed to take over the "special attraction" spots when the time is right. WWE needs to start setting up Orton as a big time player once again in 2016. That way when Taker does step down and WWE needs someone to play a similar role, Orton will be ready to step up.
#3 – He Doesn't Need The Title Anymore
Randy Orton is a 12 time World Champion, so it's not out of line to say that Randy just doesn't need the World Title anymore. Another World Championship run isn't going to do anything to enhance Randy's already impressive resume and keeping Orton out of the title picture going forward would be the right move.
After many years guys like The Undertaker and Shawn Michaels got to a point where they just didn't need the title anymore. Randy Orton is at that point now. It sounds strange to say it, but another World Championship run would in a sense be a step backwards for Orton.
Randy Orton needs great feuds going forward, not more title belts.
#2 – It Will Extend His Career
Back in 2002 Randy Orton made his debut with WWE and he's been going strong ever since. He's had a few injuries along the way but that's to be expected because Randy Orton has been on the road for the better part of 14 years now. Orton is only 35 years old at the moment which means he's got a lot left to give.
Although Randy may be young, he's had a longer career than most and there's no doubt that it's taken a toll on his body. It's not out of the question for Randy to wrestle another 10 to 15 years. But his career will likely be much shorter if he continues to work full time.
#1 – It Will Make His Feuds Special Again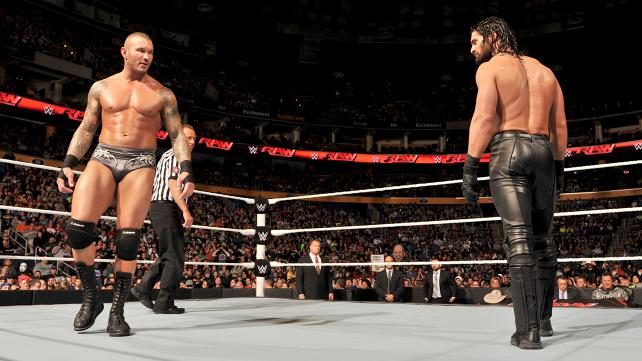 Randy Orton had a big year in 2014. He was the "face of the WWE" for a while and he even walked into the main event of WrestleMania 30 as WWE World Heavyweight Champion. But somewhere along the way in 2015, Orton got lost in the shuffle.
Randy Orton is not the type of star that should be allowed to get lost in the shuffle. However, he's feuded with just about everyone on the WWE roster, so it's become increasingly difficult to keep him involved in feuds that feel fresh.
Bringing Randy out for 3 to 4 feuds a year would fix that problem right away. People always get hyped for The Undertaker's feuds and Brock Lesnar's feuds because they don't see these guys all the time. If they came out on Raw or SmackDown every single week they would become just another member of the WWE roster.
It seems that Randy Orton has become just another member of the WWE roster. But he's not just any WWE Superstar, he's Randy Orton, he's a legend. There are still a lot interesting things Randy Orton could be doing. WWE just needs to make sure they put him in the right position where people actually want to see him do those things.
What do you guys think, should Randy Orton go part time? Sound off in the comments below.