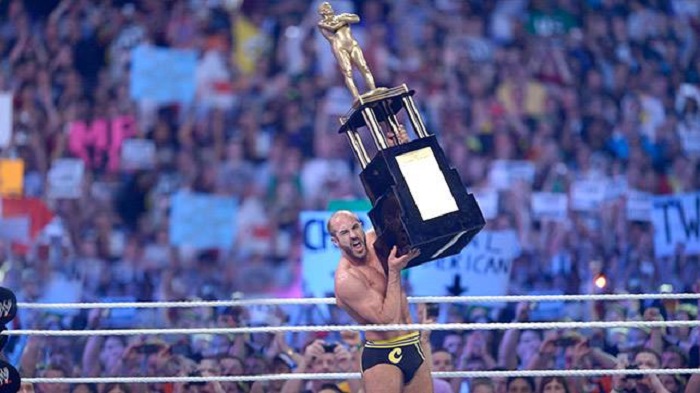 WrestleMania is the grandest stage of them all and at WrestleMania XXX that stage had one of the best performances to date. WWE didn't just hit a home run with WrestleMania XXX, they knocked it out of the park. There were legends, there great moments and all the new guys got the spotlight.  We put together a quick list of WrestleMania moments that we'll definitely be talked about for a while.
#10 – Legends Drinking Steveweisers
First Hulk Hogan came out, everyone cheered. Then he was interrupted by Stone Cold Steve Austin and the place erupted. Then The Rock made his way out and the place came straight up unglued. This was a WrestleMania moment for the ages. Arguably the three biggest stars this industry has ever known all drinking beers together at WrestleMania XXX. WWE couldn't have even possibly had a better start to the show.
#9 – The Entrances Were Epic
source: http://prowrestlingnow.tumblr.com/
Seriously though, how good were the entrances at WrestleMania XXX? Two live performances, 22 caskets, awesome masks and whatever the hell Triple H was doing, they were all epic. WrestleMania XXX is a great place for gimmick entrances and they all delivered.
#8 – Daniel Bryan Beats Triple H
source: http://wrasslormonkey.tumblr.com/
We had hoped it would happen but the payoff was ever so sweet when Daniel Bryan beat Triple H. There were no shenanigans in this one. These two put on a great match and Triple H made Daniel Bryan look like the superstar that he is. Not seeing Triple H kick out of Daniel Bryan's finisher was a big deal and also quite shocking.
#7 – The Battle Royal Delivers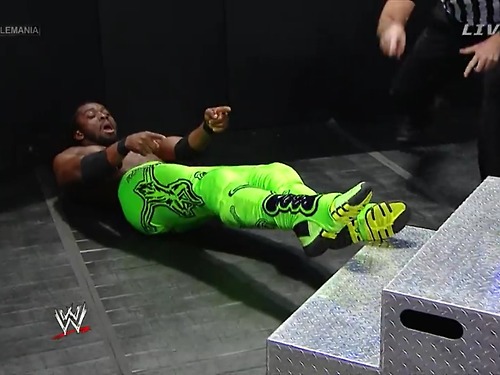 source: http://vanlitas.tumblr.com/
At first glance the Andre The Giant Battle Royal didn't seem all that exciting but it certainly delivered. Where this year's Royal Rumble failed, this battle royal succeeded. Everyone got time to shine, Kofi Kingston delivered one of his best spots yet and Cesaro won by throwing The Big Show over the top rope. Yes you read that last sentence correctly.
#6 – AJ Lee Retains
source: http://divasssp.tumblr.com/
AJ Lee overcame the odds by walking into WrestleMania XXX as the WWE Divas Champion and walking out the same way. AJ has brought a lot of credibility to a title which didn't have much credibility to begin with. No matter where AJ goes from here, that WrestleMania XXX win solidified her title reign as the greatest WWE Divas Champion so far.
#5 – The Shield Dominates
Did anyone make a bigger statement at WrestleMania XXX than The Shield? The Shield tore through Kane and The Outlaws like they were sheets of paper and it was a great time watching them do it. It seemed that they were teasing a breakup of The Shield for a while but WrestleMania XXX just proved that breaking them up would have been a bad idea. There's plenty more to come in the case of The Shield.
#4 – Cesaro Is Epic
source: http://wwegif.tumblr.com/
Everything Antonio Cesaro did at WrestleMania XXX was epic — from his work in the tag team match, to breaking up with Swagger, to throwing The Big Show over the top rope. Every moment this guy had was a WrestleMania moment. If there's one thing we learned about Cesaro at WrestleMania XXX, it's that he's definitely not human because he lifted The Big Show with ease.
#3 – Bray Wyatt Is Creepy
You can't argue with the fact that: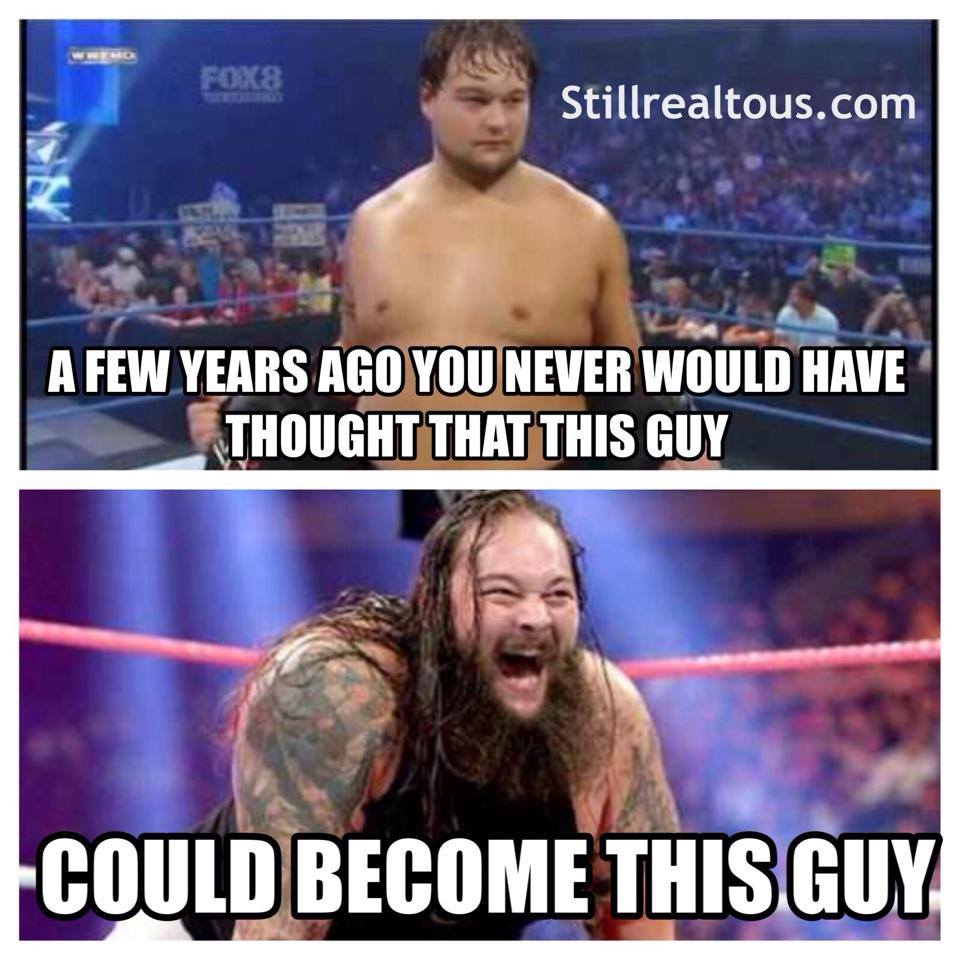 Bray Wyatt owns his gimmick like nobody else in WWE. He was the perfect match for Cena because it was a character like nothing else he's ever faced before. WrestleMania XXX made Bray Wyatt look like a star and millions of people all over the world now want to follow the buzzards.
Plus this was just awesome…
source: http://furbelicious.tumblr.com/ 
#2 – The Streak Ends
Is the streak really over? Yes, it is. There was no conspiracy here, no mistake, the WWE really ended The Undertaker's WrestleMania streak. Can anyone honestly say they weren't shocked by this? No one really saw it coming and that seemed to be point. WWE managed to get a lot of people talking about this moment because no one had any idea and everyone assumed the streak would never end.
Now the streak must rest in peace and WWE gets more publicity than they would have if The Undertaker were still undefeated.
When it ended we all made the same exact face though and it looked a lot like this:
 source: http://hbshizzle.tumblr.com/
#1 – Daniel Bryan's Story Gets A Happy Ending
source: http://alone-alive-still-unbroken.tumblr.com/
Let's face it, this was the moment that WWE needed. The Daniel Bryan story worked out perfectly and WWE finally gave the fans what they've wanted for 8 months now. It started at Summerslam, it ended at WrestleMania and it was the perfect payoff for an epic title chase. The fact that WWE gave us the happy ending here was not only one of the best moments at WrestleMania XXX but it was one of the best WrestleMania moments of all time.